How outnumbered KDF fought off Al Shabaab militia for 11 hours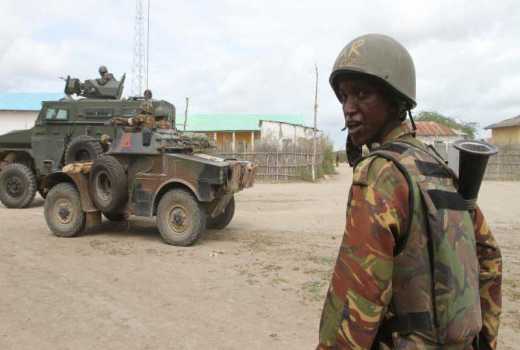 April 4, 2012. A day that will forever be etched in Al Shabaab history as their day of reckoning.
What was supposed to be Al Shabaab's best planned attack on a Kenya Defence Force (KDF) position in Somalia miserably failed and led to the massacre of a large number of the militants.
On this day, Al Shabaab lost more than 400 of their fighters in Hosingow, the largest number of casualties suffered in the hands of KDF troops.
What Al Shabaab had expected to be an easy overrunning of the KDF camp in Hosingow turned out to be their Waterloo. A nightmare.
By the end of that day, hundreds of bodies lay strewn around the KDF camp. Each of the slain attackers had a blue plastic cup, presumably for a hefty breakfast they hoped to have after overrunning the camp.
Small camp
Elite Al Shabaab fighters, who had all along been depicted as relentless and unbeatable, had bragged that the attack would go down as the best planned and organised.
It involved more than 1,000 attackers. They attacked the camp in battalions of 100 soldiers each, sending them to their deaths every 45 minutes. Eleven hours later, the terror group had lost almost half of its fighters in what they thought was a small camp could easily be overrun.
Al Shabaab had been planning the attack by amassing equipment and fighters in Hinday, to the East of Hosingow and about 40 kilometers from the camp, for over a month. Some of the fighters had been arriving on foot.
Intelligence gathered by KDF and the Somalia National Army (SNA) indicated that the militants had assembled several troop transporting vehicles, Dushka guns and more than 1,000 fighters in preparation for the attack.
"We were reliably informed that this was an elite unit planning an attack on our camp. There were between 800 and 1,000 Al Shabaab fighters. We knew we were going to be under attack within 24 hours," Major Hillary Busienei, who was second in command of the unit that had liberated Hosingow two months earlier recalled.
The attack was expected late in the night or early in the morning when sentries are least alert. But KDF soldiers who had conducted a reconnaissance mission earlier were prepared for it.
That evening, Sergeant Major Robert Nyagah, the warrant officer in charge of ammunition distribution, saw it fit to give out all ammunition, mortar bombs and grenades to soldiers in their positions prior to the attack.
The standard practice would be for him to regularly run around positions, ducking mortars and bullets as he replenished ammunition to soldiers who had run out of them. Not this day. His instincts urged him to hand over all ammunition to all soldiers prior to the attack.
Sporadic shooting
This move saved the situation on that fateful day. There had been no time to replenish. Soldiers took their positions that evening and lay in wait for the attackers.
At about 4:30am, a KDF soldier tripped on one of the flares, and as if by cue triggered sporadic shooting around the camp.
"I did not close my eyes, I guess it was due to the adrenaline. We took turns to rest in shifts and took positions earlier than normal. As early as 10pm, the trip flares began going off and we knew that the enemy was conducting their reconnaissance. This went on until morning when one of the soldiers set off the signal flare," Major Busienei, who was second in command at the camp recalls.
All hell broke loose as the rat-a-tat of gunfire, booms of mortar and other weapons rent the air as the attackers attempted to run into the camp.
KDF soldiers who had been all along waiting for the attackers responded to the attack with their own fire power. Lance Corporal Kemboi and Senior Sergeant Ekal hit the attackers with their initial first response. They hit selected targets of the frontal attack with mortar bombs supported by their colleagues in the trenches.
This destroyed Al Shabaab's initial attack. The attackers would come in a group of about 100 and sustain an attack until they ran out of ammunition or were killed before the second group arrived. Each attack took about 45 minutes.
"Their intention was to get us to exhaust our ammunition, but we held them as we waited for reinforcements from Tabda and Liboi. I then realised that we had a problem with communication between our commander and the commander of the Panhead. I decided to risk it and make a 30 metre dash to my commander's position to confirm that our grid had been correctly given. The attackers were pinning us down with Dushkas," Major Busienei recalls.
For hours, the KDF soldiers kept the attackers at bay.
An F5 jet fighter then flew right above the camp, but the pilot could not fire at the attackers as they were too close to the KDF positions. On his second attempt, he struck an Al Shabaab position.
Meanwhile, five Al Shabaab fighters had crawled to within 20 metres of the trench in which five Kenyan soldiers had taken position.
The attackers were determined to storm in and overrun the camp. They believed their superior numbers would work in their favor. After all, the hungry Al Shabaab fighters had planned to have their breakfast at the camp once the fighting was done.
The battle continued for hours.
The five KDF soldiers patiently waited for the attackers to move closer to within range before they could use their only remaining weapons -- hand grenades -- at the advancing enemy. Their G3 rifles had jammed after hours of continuous firing.
A KDF driver in an Armored Personnel Carrier (APC) stationed at another location noticed the attackers crawling towards the trench and decided to run them over before they could reach the five soldiers.
But as he did so, his vehicle's fuel tank was shot at and pierced. The APC was again hit by an armor piercing as he drove back to his position. The bullet hit and injured the driver.
Another KDF vehicle was also shot at by the same weapon just as the attackers were giving up hope of overrunning the camp.
Shortly thereafter, precisely at 10:30am, two Kenya Air Force 50 ACB helicopters flew low over the camp to assess the situation before taking another loop during which they destroyed several of the attackers' technicals.
Despite coming under attack, a daring KDF pilot (only identified as Chemirmir) landed his attack helicopter at the camp to touch base with his colleagues who had been under fire for hours. The pilot bore good news for the tired KDF soldiers. Despite their superior numbers, the enemy was retreating.
He advised the fighting soldiers to pursue the enemy, but the KDF command decided against it because it would expose them.
The helicopter yet again came under attack when it took off, but was not hit. The pilot landed at the camp again to check for any damage of the aircraft before taking off to reload in Liboi.
By this time, the enemy fire had retreated and the KDF soldiers in the camp could now move around. After hours of fighting, the soldiers just wanted to hear their commanders' voice for reassurance.
At 11:00am some SNA soldiers who had been fighting alongside their KDF colleagues decided to check on casualties but came under attack. Three of them were killed and six others injured.
Shortly thereafter, reports came in that a KDF corporal had fallen and injured his hip. Five KDF soldiers were injured during the fighting. By then, nobody knew if any KDF soldier had been killed.
The soldiers then moved out to conduct patrols around the camp and were shocked at the extent of the damage. Human flesh and body parts were strewn all over. The enemy's first aid location had been hit by KDF's mortars and and its re-supply location destroyed by bombs.
Fifty enemy bodies were collected in the immediate vicinity of the camp. Many more bodies had been dragged away by the retreating Al Shabaab fighters, who rarely abandon their dead. All the dead attackers had blue plastic cups on them.
"We later came to learn that this had been an attack by an elite Al Shabaab unit and their failure was an indication that they can never overrun any KDF camp. That April 4 Hosingow attack gave us a lot of respect from Al Shabaab. We gave the bodies a decent burial. We later realised that we had killed about 300. We believe Al Shabaab buried some of the dead in Hosingow and Kismayu," Major Busienei recalled.
Evacuation mission
"At 2.30pm, a helicopter arrived to evacuate the casualties. At 3pm, we went back to our positions. It is only then that we realised we had not eaten the whole day, but no one had the appetite. We organised for a light meal," he recalled.
Busienei reckons that their training before deployment to Somalia and comradeship saved the day.
Yet it was not the first time Major Busienei fought off Al Shabaab and won.
On January 22, 2011 Busienei had been dispatched to Tabda from Liboi to pick up some SNA soldiers whom he was to escort to Hosingow. He joined his colleagues who had been waiting and embarked on the treacherous journey.
Somewhere between Liboi and Tabda at Delbiyo, he linked up with an armored troop led by Lieutenant Makele. He left the SNA soldiers there and went to Tabda and onward to Liboi. They arrived at Delbiyo before night fall and set up camp before preparing a meal.
Then at 9.12pm, the camp came under heavy Al Shabaab attack that lasted 15 minutes. Four SNA soldiers were killed during the attack. The next morning, reinforcements led by Brigadier Ondiek and Colonel Nyaga came from Tabda and evacuated the injured and dead.
"Our Hosingow victory was payback to Al Shabaab for the Delbiyo incident," Maj Busienei says.
After the Hosingow attack, it took the Al Shabaab a very long time to attempt a prodding attack on any KDF camp.