The Supreme Court on Wednesday ordered the Independent Electoral and Boundaries Commission (IEBC) to provide petitioners challenging President Uhuru Kenyatta's win in October 26 election with all original Forms 34A, 34B and a certified copy of voters register.
Chief Justice David Maraga told the petitioners to file a report on their findings from the returns by Thursday afternoon.
President Uhuru and IEBC's counsel had opposed the application, urging it would be prejudicial and that some of the documents being sought had already been provided to the petitioners and the court.
On Tuesday night, the Supreme Court knocked out some parties, including the National Super Alliance (NASA) and Jubilee Party from the hearing and directed the petitioners not to make any reference on NASA during the hearing of the case.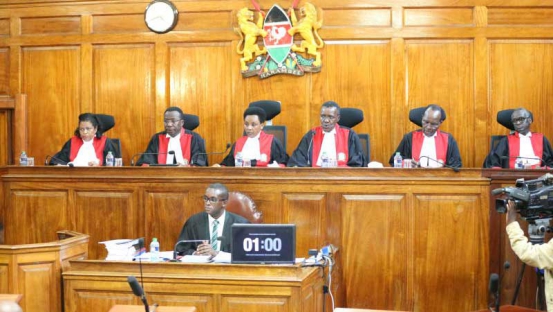 The six judges have until November 20 to rule on the two petitions.
Njonjo Mue and Khelef Khalifa's case is that IEBC failed to conduct a fresh election in accordance with the dictates of the constitution while Harun Mwau has submitted that the poll should be voided because IEBC failed to subject the candidates to fresh nominations after the August 8 poll was invalidated.
In September the Supreme Court annulled the August 8 presidential election on the grounds that it was not conducted in accordance with the Constitution and the applicable law; that it was marred by irregularities and illegalities.
That was the majority ruling by Chief Justice David Maraga, Deputy Chief Justice Philomena Mwilu, Justice Isaac Lenaola and Justice Smokin Wanjala.
Dissenting, Justices Njoki Ndung'u and Jackton Ojwang found there was no reason to nullify the 2017 presidential election.
If the October 26 election is upheld, Uhuru Kenyatta will be sworn in on November 28.