Centre where teen single mothers find future of hope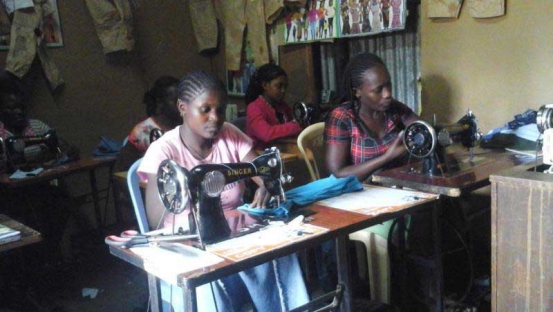 In a classroom with wooden walls and a low ceiling, sewing machines whirr as an instructor walks around to guide and to correct mistakes.
Behind each machine is a young woman. Most of the women here are teenagers and they are - all 10 of them - single mothers.
Welcome to the Single Mothers Association of Kenya Centre in Ziwani estate, Nairobi. Situated only a few metres from Gikomba market, the centre offers vocational courses for the young women as a way of helping them become self-reliant.
They are taking a one-year course that will see them leave the centre with skills to help them earn an income and live a life that would be otherwise elusive without the training.
Angeline Nandwa, the centre's founder and project director, says it has taken care of more than 5,000 single mothers in Nairobi and Mombasa since its inception about a decade ago.
"The main purpose of starting this centre was to offer adolescent girls a second chance. It came about after what I went through in my teenage years," she says.
At 17 and in Form Two at Mawego Girls Secondary School in Homa Bay County, Ms Nandwa was forced out of school to marry a man in his 50s. The fixer of the marriage was a cousin of hers who was a chief.
"My cousin had a brother-in-law who had lost his wife and he approached my parents and convinced them to give me away for marriage. I escaped from home for two weeks before coming back just to try and stop the marriage from happening," she says.
All this happened during the school holidays and the wedding was quickly planned and held at the All Saints Cathedral in Nairobi. Nandwa, who was born and brought up in Ziwani, was now the wife of a man with six children, some of them older than her.
Untold mistreatment
"I had my first son and the marriage just refused to work. I faced untold mistreatment in the house from my husband's children and chose to carry my baby and return to my parents'' house in Ziwani from Woodley, where we lived," says Nandwa.
"I told them I was not going back and if any of them felt I had to go back, then they could as well go and marry him."
She says she lived like a slave in her matrimonial home and when she left, she had to start doing odd jobs to provide for her son because her parents were retiring and going back to the village.
"I did every imaginable menial job except prostitution just to provide for my son and it opened me to the world of single mothers and what they go through," she says.
After 13 years of separation, the marriage stood dissolved and Nandwa had another wedding at the Holy Family Basilica to her current husband, with whom she has two daughters.
During this time, an uncle got her a job as a messenger with the Ministry of Commerce and Industries before she moved to the Ministry of Water in the same capacity.
Around the same time, the journey to forming the association started in earnest.
"The Ziwani chief called for a meeting at Kariokor Social Hall where he announced that young people were needed to be trained in community service," she recalls.
The chief was among a group that had been trained as peer educators. After training, the organisation started the Eastleigh Youth Guidance and Counselling Centre, a pilot project that aimed at looking into matters affecting young people.
After the project, Nandwa was sponsored for another course after which she was required to initiate a project at community level.
"I did this with ease because I already knew the challenges facing the Ziwani community, among them teenage pregnancies and sale of illegal liquor, which led to incest among other vices."
Girls' project
She thought about starting a programme for boys but that would be expensive, so she settled on a one for girls, especially single mothers. With a group of 50 single mothers, she registered Single Mothers Self-Help Group. The group later became an association, which would in turn deal with member groups.
"We train groups in different parts of the country and do a lot of networking. Initially, we had a primary and secondary school, but with the inception of free primary education, most parents took their children to public schools and we closed our doors," she says.
Right now, the women being trained live at the centre with their children (the centre has a daycare section). The courses are offered free of charge, with funding from partners and feeding from the association itself.
There is also a workshop where young men ply their trade, and a hotel from which the centre gets an income. There is also a cyber cafe.
Some of the courses offered at the centre include beadwork, leather work as well as tie-and-dye.