Former Youth Fund boss Namuye dies in her Nairobi house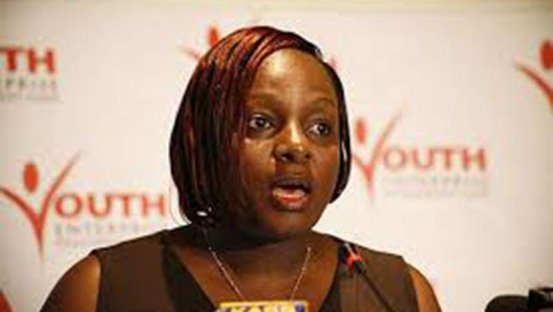 Former Youth Enterprise Development Fund boss Catherine Namuye died in her house in Kileleshwa, Nairobi.
Her lifeless body was discovered in her apartment on Wednesday morning soon after screams had been heard from the house, neighbours and police said.
Those who responded there included a Member of Parliament who is her neighbour. They said they found the immobile body minutes after the sound emanated from the house and called an ambulance.
Ms Nambuye was pronounced dead at the house by medics who arrived in the ambulance. Police suspect heart attack as the cause of the death.
But a postmortem will be carried out on the body to establish what triggered the condition.
Nairobi police boss Japheth Koome said they are investigating the death.
Ms Namuye and former Youth Enterprise Development Fund chairman Bruce Odhiambo have been charged with 12 counts of corruption in relation to the loss of Sh180 million of taxpayers' money.
Ms Namuye and Mr Odhiambo were, in August 2016, alongside the directors of Quorandum Ltd, Mukuria Ngamau and Doreen Waithera, charged with the offences.
The Youth Fund officials were each released on a Sh5 million bond with an alternative cash bail of Sh2 million.
Ms Namuye and Mr Odhiambo are alleged to have received Sh 4.5 million and Sh 1.8 million in kickbacks from Quorandum that prosecutors said they had "reasons to believe was corruptly acquired from the Youth Enterprise Development Fund."
The prosecution said between November 17, 2014 and May 4, 2015 in Nairobi, the suspects conspired to defraud the public through "unlawful payment of Sh180,364,789 from the Youth Enterprise Development Fund to Quorandum Limited for services not rendered."
Ms Namuye denied a charge of abuse of office which stated that while acting as the chief executive, she executed an underhand contract between the Youth Enterprise Development Fund and Quorandum amounting to Sh114,909,000 for alleged provision of consultancy services dubbed "The Design of Specifications for an Enterprise Resource Planning."
Namuye, had earlier on in Parliament, implicated her seniors for the loss of Sh180 million. As the acting CEO, Namuye authorised the payments for a fictitious tender.