Public Works PS Mariam El-Maawy dies in hospital three months after Al-Shabaab attack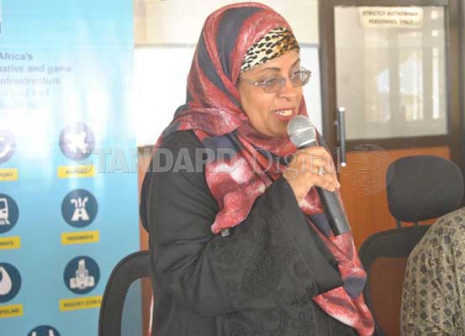 A principal secretary injured in an Al Shabaab attack three months ago has died of her injuries.
Public Works Principal Secretary Mariam El-Maawy was being treated in South Africa for the injuries she sustained in the July attack.
The PS, who died on Tuesday, becomes the senior most government official to die in an Al Shabaab attack.
The attack happened at Milihoi between Koreni and Hindi, about 40 kilometres northeast of Mpeketoni town.
The militants flagged down the PS's official car, which was an hour later found burnt about a kilometre away after the Kenya Defence Forces and police rescued her.
Ms El-Maawy had a bullet lodged in her left shoulder and burns on her legs.
Her death was announced by State House spokesman Manoah Esipisu in a statement to newsrooms.
State House said President Uhuru Kenyatta was deeply distressed by El-Maawy's death.
Accomplished architect
"She was a dedicated public servant, an accomplished architect, and a patriot," read the statement.
Uhuru eulogised the PS's achievements and expertise, which he said prompted him to hire her to become principal secretary for Lands and later for Public Works.
"She served with distinction in both offices and her loss will certainly be felt," said Uhuru.
El-Maawy's death brings to seven the number of people who were killed following the July 13 incident
Her nephew, a trainee pilot with whom she was with, also died in the attack. El-Maawy, who had briefly been abducted, was rescued by a joint team of Kenya Defence Forces and General Service Unit personnel.
Reports indicated that the PS and several aides, including bodyguards, were seized by the armed militia at Milihoi on the highway between Mpeketoni and Mokowe in the Lamu.
They were flagged down by the insurgents, who had captured several trucks on the road.
Other vehicles
Area residents said that about 30 militants had seized two other vehicles, which they released after abducting El-Maawy and other passengers in her vehicle.
She was rescued about 45 minutes later.
El-Maawy, who is from Lamu, was heading to Witu to visit families evicted by the fighting between the security agencies and the Al Shabaab militants.
She and her entourage were going for a security meeting in Jima, where at least nine people were at the weekend beheaded. She was later to hold other development-related meetings in the area before flying back to Mombasa.