IEBC files 54,000 election results from regional tallying centres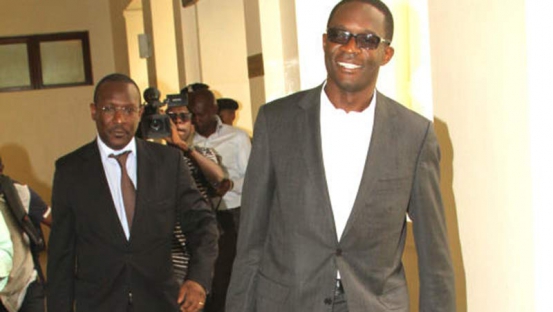 The electoral agency has denied claims of missing form 34As even as it filed 54,000 pages of Forms 34A, 34B and 34C used to tally presidential results at polling centres, constituency and national tallying centres respectively.
Independent Electoral and Boundaries Commission (IEBC) Chief Executive Officer Ezra Chiloba said none of the 40,883 Forms 34A was missing from their records as claimed by the National Super Alliance (NASA) in their petition challenging the re-election of President Uhuru Kenyatta.
"We have all the forms that were used to record results during the elections and have even scanned the copies for submission to the Supreme Court. None of them is missing," Mr Chiloba said.
SUMMONING AGENTS
Electoral laws require IEBC to file all records of presidential election results within 48 hours after being served with a petition challenging declaration of results.
NASA had accused IEBC of refusing to give them copies of Forms 34A.
"It was disturbing that even at the time of filing the petition, IEBC was still in the process of fraudulently altering and tampering with Forms 34A. They are summoning agents to their offices to sign the altered forms," NASA claimed.
But Chiloba shrugged off the claims, saying the agency would give a detailed and comprehensive response to all claims made by NASA when they file their response.
NASA had demanded IEBC be ordered to produce all electronic documents, devices and equipments used in the presidential election within two days after filing their application.
The coalition also wanted the electoral agency to produce and allow scrutiny of all logs and servers it hosted during the election or those hosted on its behalf by other service providers.
NASA claimed there were discrepancies between polling station and constituency level data, and some Forms 34A and 34Bs used were not prescribed in law.
MANIPULATING RESULTS
"IEBC preconceived and set out to conduct an inconsistent, impartial and non-uniform presidential election with the goal of manipulating the results by using different Forms 34A and 34B at the polling stations and constituency tallying centres," NASA said.
NASA also claimed handing over of Forms 34A at the national tallying centre was not transparent, not verifiable and did not meet the requirement set out in election laws. They claimed Forms 34B were contradictory, defective and had irregularities in 14,078 polling stations.
To fight drought, involve communities
According to the latest information from the Meteorological Department, rainfall will be poorly distributed in April, May and June, and this will have a serious impact on agriculture