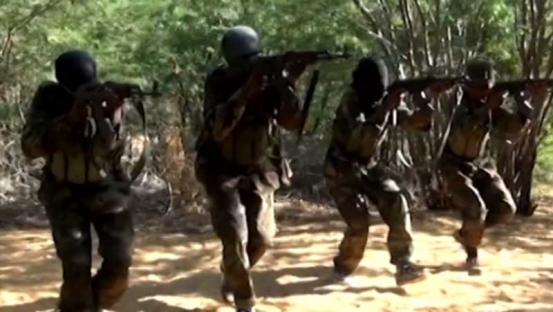 A police officer was killed and two vehicles were burnt down in an attack by Al-Shabaab militia in Lafey Town, Mandera County.
The attackers also escaped with one police car in the Thursday dawn attack on Lafey police station and that of AP camp.
Police in the area said they believe there were Al-Shabaab militants who were also killed and their bodies picked up by their accomplices as they escaped.
At least 12 other officers who were on duty took cover in the siege as the gang ran randomly there causing damage before escaping.
Police say the gang was about 50 when they launched the attack. North Eastern regional coordinator Mohamud Saleh said the attackers escaped soon after the attack.
Saleh said a response team was sent to the place to access the damages caused.
"The militia stole one car after causing damage at the station but response teams are pursuing them. The place is remote and far," he said.
Locals said the attackers had been roaming the place since Wednesday night and that they alerted authorities of their presence.
A dusk to dawn curfew has been imposed in the area and it is not clear how the group managed to strike.
The other towns are Mandera Town, Arabia, Fino, Lafey Kotulo and Elwak.
This comes days to the election amid fears such attacks may affect voting.