US election observer group cautions IEBC over KIEMS failure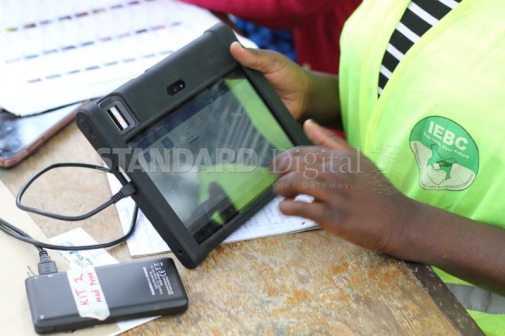 An international election observer mission has urged the Independent Electoral and Boundaries Commission (IEBC) to conduct proper tests on electronic systems before the August 8 polls to avoid possible technology failure.
United States observer group Carter Center Election Observation Mission said the proper functioning of the Kenya Integrated Elections Management System (KIEMS) network throughout the electoral process would be a major boost to the credibility of the elections.
The observer mission said the success of the polls would be largely dependent on the proper functioning of the KIEMS network, saying proper simulation of the kits should be undertaken to ensure that the technology functions smoothly and that each polling station has sufficient back-up batteries.
"While the IEBC has taken efforts to correct inaccuracies in the voter register identified by an independent audit, inaccuracies persist, including a high number of deceased voters on the register. The IEBC has correctly argued that the biometric voter identification system is designed to prevent any malpractice on election day," they said.
The observer group, initiated by former US President Jimmy Carter, revealed that former US Secretary of State John Kerry would be arriving in the country next week to lead the team of 60 observers.
Also on the team is former Prime Minister of Senegal Aminata Tour?.
The observation mission released their pre-election statement commending IEBC on its preparations last week, saying despite the new team being in office for only about eight months, it had made major strides in ensuring a smooth process. It noted the heightened political competition in Kenya, calling it evidence of a strengthening democratic culture.
However, the group faulted IEBC's communication with other election stakeholders.
It recommended that IEBC should take steps to increase transparency and communication with electoral stakeholders and the general public. [Moses Njagi and Roselyne Obala]