Kenyans apprehensive as police map out poll violence hot spots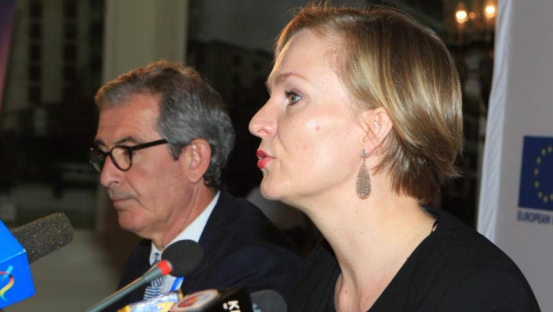 With just over three weeks to the elections, observer groups have sounded the alarm over the possibility of violence during or after the August 8 polls.
The Kenya Police, the European Union Observer Mission as well as the National Commission for Integration and Cohesion (NCIC) have all pointed towards this possibility as political temperatures peak.
But as the political class goes from town to town whipping up emotions and solidifying their support base, Kenyans are taking precautions to avoid being caught up in violence should it break out.
A spotcheck in Nairobi, Kisumu and Mombasa shows that some individuals and families are moving to their ancestral homes, away from the cities which were post-election violence hot spots ten years ago.
On Tuesday, Nairobi police boss Japheth Koome named informal settlements in the capital city as potential violence hot spots during the polls.
He cited Umoja, Kariobangi, Dandora, Kayole, Kiambiu, Githogoro, Kibera, Mathare Mukuru slums, Dagoretti, Kawangware, Buru Buru, Globe Cinema, Kangemi, Ngara, Marurui and Korogocho.
The warning by the police came soon after the red flag by the European Union Observers Mission on Monday that also hinted at possible violence in the elections that will pit President Uhuru Kenyatta against his arch rival and Opposition leader Raila Odinga and other candidates.
Kenyatta and Raila are predicting victory for their teams with the NASA leader projecting to bag more than 10 million votes while Jubilee is confident of getting over 70 per cent of the votes in the first round.
RETHINKING THEIR PROXIMITY
Data from the Independent Electoral and Boundaries Commission indicates over 19.5 million registered voters.
In 2007 more than 1,000 people lost their lives while 500,000 were displaced following the disputed presidential election.
The EU Observer Mission said the threat of poll clashes, which pushed Kenya to the brink 10 years ago, could not be dismissed.
"It is no secret that there are concerns about the possible outbreak of violence. This is not inevitable," said Marietje Schaake, head of the EU Election Observation Mission, as she promised "an honest and impartial assessment" of the vote.
In Mathare and Dandora, individuals who have been neighbours for years are rethinking their proximity to each other. Residents are forming homogenic cul de sacs for the security in numbers.
"The fact is that this is a very competitive election and Kenyans and the history we have had as Kenyans entitles us to have fears over what might happen over the electioneering period. But we should not let these fears take over our lives," Interior Ministry Spokesperson Mwenda Njoka told the Sunday Standard.
"We learnt our lessons from 2007 and we can assure Kenyans that there will be no repeat of the violence from ten years ago," he said.
"Though an election alliance has brought together the two largest ethnic groups in the region, the Kikuyu and Kalenjin, and helped avert large-scale violence during the 2013 polls, the task of reconciliation is far from complete," a June report released last week by rights organisation, International Crisis Group (ICG) said.
The rights group said the political deal between President Uhuru Kenyatta and his deputy William Ruto has yielded a welcome, albeit superficial, calm.
"A transactional electoral pact is a fragile base upon which to build a lasting peace. Kalenjin politicians repeatedly warn that Kikuyu elites plan to stop Ruto from ascending to power by backing a Kikuyu candidate in 2022. Failure by the Kikuyu side of the Jubilee coalition to endorse Ruto in 2022 almost inevitably would trigger major instability in the Rift Valley," the report says.
Although the NCIC, a constitutional commission created after the 2007 blood-letting has raised concern over the increasing ethnic and political polarisation by the two major political coalitions, through inflammatory language, it is convinced that the amount of sensitisation and awareness it has done is enough to deter any form of violence over the election period.
"2007 happened almost entirely because of hate speech. We have enough monitors who report all hate speech violations to law enforcement agencies. As we speak, we have several cases going on throughout the country," Hassan Mohammed, the commission's chief executive said.
"We have covered sufficient ground to deter any form of violence from happening anywhere in the country."
Although mandated to promote national unity, the commission is yet to successfully prosecute proponents of hate speech. Most of the cases it has taken to court have collapsed due to a lack of evidence despite the visible political hooliganism and extreme violence in the political space.
Analysts say it is these same fears that are translating to other communities that felt the brunt of the violence a decade ago.
"We are doing the same things over and over again. The hot spots named by the police are the same hot spots from 1992 and it is the politicians who are drumming these war drums," Archbishop Martin Kivuva said.
The Mombasa Archbishop said the threat of violence and displacement is real but Kenyans should not fear.
"People should not move out just because pamphlets have been drooped outside their doors. We must be bold and courageous and confident in our Kenyan-ness and reject anyone who seeks votes through violence and hate," he said. "War mongers have no place in this election. We have suffered enough as Kenyans."
Mr Mwenda said the Ministry of Interior will deploy more police officers to areas identified as violence hot spots.
Kivuva however says that peace cannot be entirely achieved by force. "Guns and soldiers on the street do not translate to peace. Peace comes from the people, not from boots."
To fight drought, involve communities
According to the latest information from the Meteorological Department, rainfall will be poorly distributed in April, May and June, and this will have a serious impact on agriculture