How Nkaissery thwarted attempt by ODM to form parallel government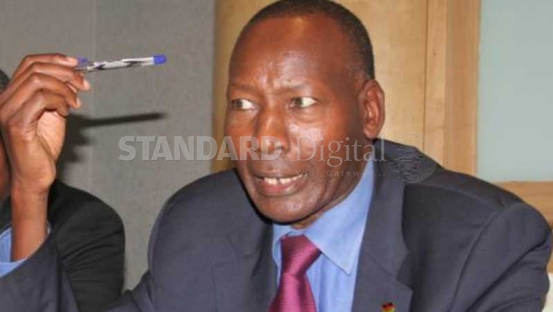 The late Interior Cabinet Secretary Joseph Nkaissery lived by the mantra of once a general, always a general.
The retired Major General of the Kenya Army conducted himself with the discipline and diligence typical of a military man; standing strong against what he considered wrong, even if it meant rubbing his superiors the wrong way.
Even during his tenure in elective politics, a field where majority are swayed by personal and political interests, Nkaissery was not only strict on the side of the law, but stood against anyone who sought to take political capital through mischief.
Former Narok South MP Nkoidila ole Lankas yesterday revealed one of the best kept secrets about how the former ODM legislator for Kajiado Central thwarted an attempt by his party to form "a government" in the wake of the disputed 2007 elections.
Lankas revealed how the deceased blocked the party leadership's plans to take over the country by forming a parallel government as ODM wrestled then President Mwai Kibaki's Party of National Unity (PNU) after the disputed polls.
"All elected MPs were rounded up and forced to converge in the old chambers of Parliament. Then Secretary General Anyang' Nyong'o asked them to sign some form that would have seen ODM form a parallel government," disclosed Lankas.
"But Nkaissery stood up and differed with Nyong'o. He told him what he was trying to do was nonsense. He was not going to append his signature on the document."
Although some tried to resist his defiant position, being carried away in the heat of the moment of what they believed was a stolen election, they later agreed with him that such a move could have caused anarchy.
"We refused to sign the form. It is apparent that he saved the day even though no one has ever talked about that episode," the former MP recounted.
In yet another incident that showed the true character of the retired General, Nkaissery stood up against the decision by his ODM party and its leader Raila Odinga to nominate Jonah Ng'eno to contest the 2008 Kilgoris by-election. He instead threw his weight behind his fellow Maasai, former Immigration minister Gideon Konchellah, who was being fronted by PNU.
An angry Nkaissery told off his party leader, insisting that the MP's position, being in Trans Mara, should be given to a Maasai. The party threatened to take disciplinary action against him for supporting the PNU candidate.
"This has nothing to do with the party, but the community's interests," said Nkaissery, even as ODM leaders accused him of playing tribal politics. Konchella went ahead to win the by-election.
In Parliament where Nkaissery served from 2002 until his appointment by President Uhuru Kenyatta to take up the Cabinet position, he remained a no nonsense figure, a character he maintained even when he switched the Legislature to the Executive.
Every time Nkaissery would appear before a parliamentary committee, he would attract the criticism of MPs as he refused to discuss some matters in public, citing national security. Opposition legislators accused him of suddenly transforming into an oppressor upon his appointment to the Cabinet.
During the opposition's public protests to force removal of IEBC commissioners, Nkaissery unleashed full police force on the protesters, bragging at one point that he had enough teargas to ruthlessly deal with those threatening public order.
Under his orders, six legislators spent four days locked up in police cells over hate speech allegations, with Nkaissery remaining unapologetic for ensuring they were not accessible family members or other political leaders.