Top politician probed over attempt to hack IEBC database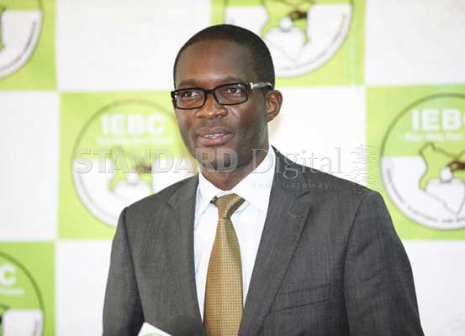 Police are looking into a possible link between a top politician and a cartel of hackers suspected of trying to hack into the country's elections database.
Detectives investigating the intricate web of hackers say the politician had had frequent contacts with hackers. However, they were unable to provide The Standard on Saturday with evidence of this interaction.
It is claimed that a key hacking suspect even attended many of the politicians' meetings. But when we asked for records of the meetings, police said the matter was still under investigation and documents could not be released.
Police are analysing the phone data of the suspects and say they will summon the politician to record a statement once the investigation is over.
They are holding at least five suspected hackers who attacked state and private institutions, making away with billions of shillings in the past five years.
Detectives claim the hackers had developed a system capable of overriding the IEBC computer network. Again, no independent evidence was provided for this assertion.
They claimed the hackers tried to enter the IEBC system at least four times last year.
One of the suspects in police custody who police identified as Calvin Otieno Ogola is said to have worked with two Russians and one American in putting together the codes which investigators claim could manipulate IEBC data.
Ogola, who police say has had frequent contact with the politician, is said to have left the country for Tanzania in April 2016.
He later went to Mozambique where he met two Russian nationals. The two Russians are said to have a history of hacking security systems.
The Russians' names were not provided nor were details of their backgrounds. A police officer involved in the the investigations claimed that it was in Mozambique that the codes capable of deleting, multiplying, adding data and manipulating voter register details was developed. The Standard on Saturday was unable to verify that the codes had this ability as claimed by the detectives.
The team, detectives say, worked closely with another Kenyan by the name Albert Komen. At one point, Komen was accused of creating a fully operational virtual branch of a local bank and ran it for six months before the bank could discover foreign operations within their systems.
Police handling the investigation said more details would be made available once a team of cybercrime experts piecing together the pattern of the operation by the cartel is complete.
They said they had taken over the suspects' laptops, mobile phones and other electronic equipment.
Police further said they are undertaking an in-depth study of the gadgets recovered from the suspects with an intention of presenting an airtight case in court. More details, detectives added, would be made available once the investigations are completed. Detectives are also looking into how the cartel of hackers penetrated and remotely controlled some functions of the Kenya Revenue Authority (KRA) systems.
They say the cartel of hackers led by Calvin Ogola, Albert Komen, Tobias Raphael Ngugi (who is still at large) and Edward Langat Kiprop had installed a laptop on the third floor of Times Towers right behind the tax collectors' cabling compartment.
Through this laptop, the hackers were able to access and manipulate some KRA systems.
Pending cases
Otieno and Komen jointly own a company Browiz Technologies that is located near Nairobi's Yaya Centre. Otieno has six pending court cases related to hacking.
The cartel's international connection has been traced to an American jailbird Larry Peckham II. Peckham is a perennial hacker who has been convicted 20 times over hacking related cases in the United States of America.
So far, over 100 hundred entities have been penetrated by a cartel of hackers that have become subject of police investigations.
Among them include more than 40 public institutions and state corporations, multi-nationals, international NGOs and Saccos.
Minted cash
All the 127 are listed as clients of a company investigations have linked to a cartel of hackers that have so far minted millions of shillings in thuggery.
James Mwaniki, a leading programmer and an employee of CoreTEC Systems & Solutions, is in custody in relation to the fraud. Police Sacco, detectives believe, lost Sh50 million through the back door of CoreTEC Systems and Solutions.
Contacted, CoreTEC front office referred us to the human resource manager who refused to comment, terming the matter "sensitive".
The company CEO Tobis Otieno's cell phone would automatically disconnect every time we tried to call. When The Standard on Saturday visited CoreTEC office on Mombasa Road, the company signage had been removed both on the ground floor and third floor of Mirage Building where their office is housed.
Other prominent entities listed as CoreTEC clients include Kenya Airways, Insurance Regulatory Authority, Trade Mark East Africa, World Vision, Tanzania bureau of Standards, Coffee Board of Kenya and BankiKuu Sacco Limited, among others.
Insurance Regulatory Authority said it had since kicked out CoreTec Systems & Solutions after the firm failed to meet contractual obligations. 'The authority is not a current client of Coartech Business Systems. In 2012, the Authority contracted the firm to provide a Management Information System (MIS) for its Customer Relationship Management (CRM), Human Resource (HR) and Procurement Functions.
The authority severed the contract with CoreTEC in 2014 when it failed to meet its contractual obligations. There has been no business engagement with the firm since then," said IRA acting boss Godfrey Kiptum.