Gun drama at rallies raises security fears ahead of polls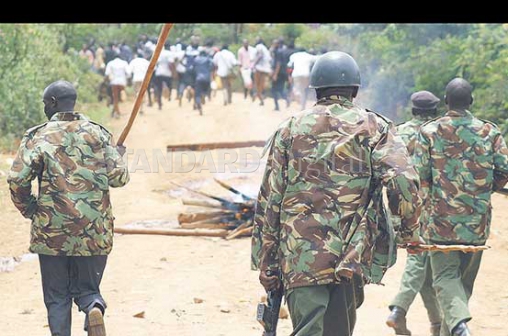 Recent gun drama at political rallies has raised security fears as campaigns intensify ahead of the August elections.
And it is more worrying because the police do not appear quick to punish the culprits.
Nairobi Senator Mike Sonko, gubernatorial aspirant Peter Kenneth and their bodyguards are yet to record statements over last week's incident during a football match in Dagoretti where gun shots were fired after a scuffle between their supporters.
Patrick Magero, a Conflict and Peace studies lecturer at the United States International University-Africa faults the government for failure to enforce gun regulation.
"Unless there is an outcry like when Nakuru Senator Paul Njoroge Ben shot at the Shell managing director there has been little enforcement of gun regulations in the country," he says.
He explains, "If you add this to the indecision displayed by the government on prosecuting past perpetrators of political violence or the big fish who commit crime has sent a message that you can break the law and nothing will happen to you."
Last week, bandits killed a chief in Baringo moments before Deputy President William Ruto arrived for a rally, where he issued a shoot-to-kill order against bandits. However, the meeting ended prematurely after shots were fired near the venue.
The previous week CORD leader Raila Odinga was also forced to wrap up his rally in Lodwar, Turkana after shots were fired at the venue.
It is however the events last week in Dagoretti that is the cause of worry. This is because of the nature of political rallies in Kenya where hundreds of people attend without screening for weapons, and any cause of panic may be disastrous.
Police say ultimately it is officers attached to the politicians who will be held accountable in case something happens due to fire arm misuse.
"The officers have been trained and they are responsible for the weapons under their names. Every firing incident must be reported to the nearest police station and booked. The circumstances surrounding that firing should be recorded in the occurrence book," says George Kinoti, the Police spokesman.
Nominated MP Isaac Mwaura says the Dagoretti incident is a pointer to the country's immature politics and the danger of having too many fire arms in the hands of politicians.
"Most aspirants are armed and if they are not armed then their bodyguards are and if you factor in the level of political intolerance present in the country then we are sitting on a time bomb," he says.
Machakos Senator Johnstone Muthama says the number of bodyguards per politician should be controlled. "Look at people close to government. They are walking with unknown bodyguards with guns and no one has asked," he says.
Nairobi Governor Evans Kidero accuses Interior Cabinet Secretary Joseph Nkaissery of reluctance to take action against some politicians. "Nkaissery has been at the forefront arresting politicians who break the law but I fail to understand why he has remained quiet on the two," says Kidero. Kinoti says they have launched investigations into the Dagoretti incident.