IEBC rules out voter registration after Tuesday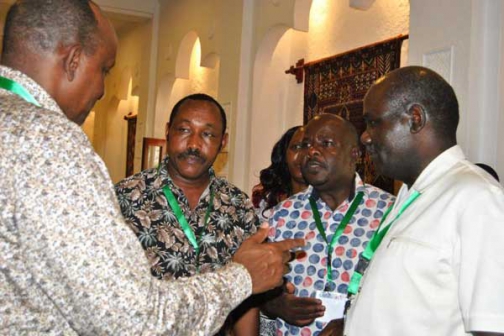 The Independent Electoral and Boundaries Commission (IEBC) will suspend continuous voter registration from Wednesday, February 15, locking out millions of potential voters.
Commission chairman Wafula Chebukati made it clear that once the mass voter registration is concluded on Tuesday, there will be no window for those who will not have enlisted to vote.
He said the suspension will allow the commission to undertake verification, audit and clean-up of the voters roll in readiness for the August 8 poll.
"There will be no voter registration anywhere after February 14. If we continue with voter registration until voting day, when will all these processes be done?" said Chebukati.
He was speaking yesterday in Mombasa during the 9th Parliamentary Leadership retreat that brought together key the legislature and other arms of government.
IEBC's decision throws into disarray earlier expectations that the drive would continue at Huduma Centres and at the commission's offices.
It also eliminates all possibility of meeting the commission's target of registering six million voters in readiness for the poll.
The commission's position is likely to meet resistance from key political players keen to shore up numbers in their strongholds as the law stipulates that voter registration is a continuous exercise.
Political parties have been scrambling to add new numbers to their ranks, leading to last minute campaigns by key leaders, including President Uhuru Kenyatta and Opposition leader Raila Odinga.
"The same law that says we conduct registration of voters is the same law that says we look at the register and clean it up and present it for verification... by May 10, we need to clean up the register. We need to stop somewhere," Chebukati told the gathering.
Njoroge Baiya, the chair of the National Assembly Constitution Implementation Oversight Committee (CIOC), raised the red flag over the commission's decision, arguing that it violates the provisions of the law.
"Remember the constitution is clear that voter registration is a continuous process. After February 14 it will still be lawful. I have no reason to believe why you should close it," said the MP.
The commission however said it will open voter registration for the diaspora and prisoners from February 20 for a period of 14 days.
"These will be the only people who will be registered. Everything else will be closed... time is not our side that is why we must strop registration by 14th of February. Everyone is looking at us to ensure we produce a clean register for free and fair elections," said Chebukati.
The two categories of voters will only be allowed to vote for a presidential candidate.
Meanwhile, the commission has said no data was lost following the alleged theft of voter registration kits during an attack in Mandera by people suspected to be members of Al Shabaab.
"We don't know for certain if it was Al Shabaab, but initial reports says the BVR kits were taken. We don't know who took them since investigations are ongoing. The data was secured since it had already been removed from the kits. No data was lost," said the chair.
There have been conflicting reports over the theft, with Al Shabaab denying that it took the kits.