I wanted to fly away from poverty, says Meru's 'James Bond'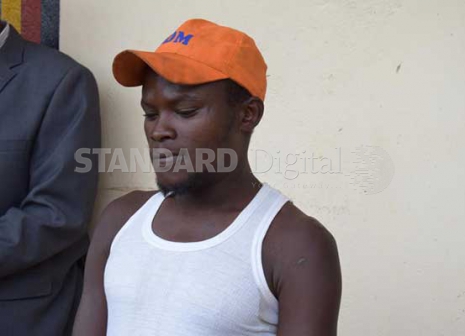 A man who clung onto a chopper ferrying Opposition leader Raila Odinga from Meru County wanted to follow him and be given a job.
Destitution led 'James Bond', real name Julius Mwithalie, 28, into jumping onto Raila's chopper when it took off from the crowded Maili Tatu stadium in Igembe Central on Thursday.
Mwithalie (pictured) who exhibited no signs of regret even as he was being held at the Maua police station yesterday, confessed that he had meticulously planned how he would get onto the chopper as it lifted off with the CORD leader.
He said he was a die-hard Raila supporter and had been prepared to pull off the stunt and follow the CORD leader so he could be given a job.
After hanging onto the chopper, Mwithalie waved goodbye to the huge crowd below, believing he was kissing poverty goodbye.
"My plan was to get inside the chopper but I did not get a good opportunity, so I opted to cling onto it," Mwithalie said.
He said he was scared stiff because of the strong winds that hit him while airborne but he summoned the energy to hold on to the railing beneath the chopper.
"I thought I would not make it and feared death. Fortunately those on board noticed me and flew to Athimba Primary School where I was dropped," he said.
Mwithalie ran away as soon as the chopper landed, but he could not explain why he did that yet his intention had been to meet Raila. He disputed rumours that he was given Sh50,000 by Raila.
Igembe South OCPD Jane Nyakeruna said they were investigating the incident.