Drought victims to get food and more livestock, DP Ruto pledges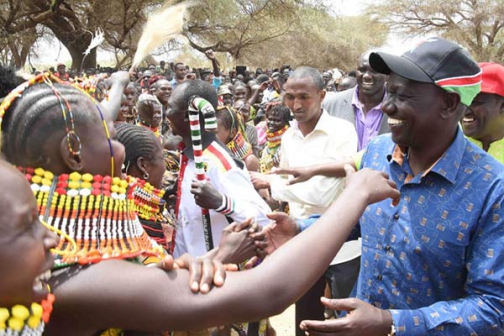 Deputy President Wiliam Ruto says the government will cushion pastoralists from effects of drought under a special livestock restocking programme.
The DP said the Jubilee regime would ensure people living in drought-prone areas do not die of hunger. He said those affected will benefit from relief food.
"We will give Turkana residents 40,000 livestock for restocking. We will also distribute 15,700 bags of maize, 10,000 bags of rice, 2,500 bags of beans and Unimix for children," said Ruto.
Ruto spoke in Kalemung'orok area in Turkana South when he kicked off a two-day tour of the county.
He called on leaders and administrators in all constituencies to ensure that only affected residents benefit from the relief food programme. At the same time, the DP said the government had set aside Sh1.6 billion for water supply in areas hard hit by drought.
"We are investing Sh1.1 billion on 18 irrigation projects through the National Irrigation Board. At least Sh100 million will be spent in Turkana and West Pokot counties to fund irrigation of 500 acres. Through Kerio Valley Development Authority, water from River Turkwel will be used to irrigate 70,000 acres of land," said the DP.
Ruto said cattle rustling and banditry attacks along the Lodwar-Kitale highway was retrogressive and should stop.
He accused the Turkana County government of not getting its priorities right in terms of development programmes.
"More than Sh50 billion has been allocated to Turkana but residents still face lack of water and food," he said.
On the Petroleum Bill, Ruto said he was meeting various leaders for consultations on the proposed law.
Local leaders have faulted plans to amend the Petroleum Bill 2015 to deny local communities a 10 per cent oil share benefit as earlier proposed.
Elsewhere, the DP said a caveat on title deeds for people living around Mau Forest would soon be lifted.
Ruto said the caveat placed in 2005 by the Ministry of Lands on more than 146,800 hectares of land hived off the Mau Forest had impoverished the locals. He was responding to the concerns of residents, who said their lives would improve once the caveat is lifted as they would be able to use their title deeds as collateral to obtain loans.
The DP said the government would tackle the issue of landlessness in the region.
Series leader Equity on the verge of making history
It will be a make or break for Equity Bank Hawks and United States International University(USIU) Flames as the two sides returns to the pitch to contest Game Three of their Kenya Basketball Federation(KBF) women's Premier League semis playoff at Nyayo Stadium in Nairobi today.