National carrier Kenya Airways lost Sh60b in under-priced ticketing
COUNTIES
By Nzau Musau | Oct 2nd 2016 | 5 min read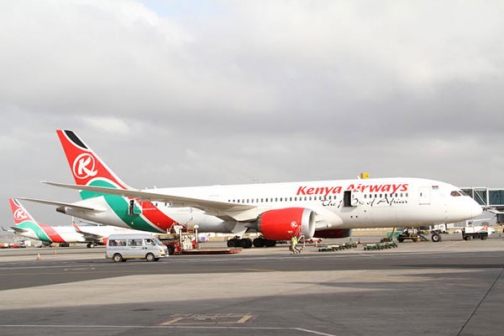 Kenya Airways may have lost in excess of Sh60 billion in a span of four years due to under-priced tickets, an audit report presented to the airline's top management shows.
A draft report of review on ticket inventory by audit firm, Deloitte Consulting Limited, found that Sh61.1 billion was lost after seven million tickets were issued below seat cost between 2012 and 2015.
The top 10 routes of the airline accounted for Sh12 billion worth of the tickets issued below the seat cost, while the top 10 travel agents doing business with the troubled airline accounted for Sh3 billion of the losses.
The seven million tickets issued below seat cost equates to approximately 50 per cent of all tickets sold. The average below seat cost price per ticket stood at Sh8,600. Put differently, half of people who flew KQ in the four year period paid an average of Sh8,600.
The Amsterdam-Nairobi route accounted for most value of the tickets (77,797) issued below seat cost at Sh1.7 billion. Mumbai-Nairobi route accounted for most of the under-priced tickets (82,837), but the losses were put at Sh1 billion.
The investigators obtained the minimum seat cost data from KQ finance team. The minimum seat cost is usually arrived at by adding the fleet costs, direct operating costs and operating overheads. It is the bare minimum at which an airline can sell a ticket without making a loss.
The issue of fares below seat cost was presented to KQ board meeting held on September 10, 2015. The board then resolved to request a forensic audit to establish the true nature of the facts related to ticket cost.
"Our investigation did not yield any palpable evidence of any irregularities perpetrated by KQ staff, travel agents or related third parties relating to tickets sold at low fares.
However, what is apparent other than non-compliance with the Pricing Policy is failure by management to agree on the most competitive price based on the actual seat cost and other market conditions such as competitors' activity," the report says.
Low yielding classes
The investigators established that 60 to 70 per cent of all tickets in European routes such as London, Paris and Amsterdam were sold in low yielding classes, namely "T" and "N-Entry" price and "R-promo" price tickets.
Further, lower value Reservation Booking Designators, referred to as RBD in airline business, were opened closer to the departure of the flight contrary to the expectations of yield maximisation.
The investigators were shocked to find that KQ's Revenue Management did not factor in the seat cost, yet it was responsible for coming up with the most competitive prices for the airline.
Also, the airline's Management Accounting did not factor in crucial aspects of the business in determining the minimum seat cost."The assignment of responsibility control during this ticketing process is weak. This is attributable to different approaches being adopted by Revenue Management and Management Accounting," the report says.
In another instance, tickets were issued at a cheaper "new route" mode on the London route, whereas the route has been in existence for a long time. The 245,759 tickets issued below seat cost to travel agents were sold at an average loss of Sh13,800 per ticket.
The review established multiple instances where ticket statuses had been changed or cancelled, refunded and reissued by KQ staff, causing revenue loss to the airline.
"Some of the changes included numerous occurrences of over-booked tickets, where staff with access to the Amadeus System would re-open closed fares and enable over-booking of tickets in lower fares," the investigation report reads.
The investigators estimated the loss through unprocedural voided, reissued and refunded tickets at Sh1.2 billion over the same period.
The investigators said although the rationale for over-booking tickets is to mitigate loss of revenue when dealing with customers who have not showed up for flights, in all the instances analysed, the over-booked tickets generated revenue loss to KQ.
In yet another leakage, investigators found that KQ was issuing promotional discount to entities without contracts as stipulated in KQ's Corporate Policy Framework.
They also established that travel agents were inflating prices for tickets sold to corporate entities, creating the general consensus in the market that KQ is an expensive airline.
In one brazen instance highlighted in the report, two Ministry of Transport officials paid Sh85,000 per ticket for a flight to Entebbe through a KQ agent. When they protested officially to KQ, they were informed that the actual fare was Sh28,720 per ticket.
"In the above scenario the Ministry of Transport and Infrastructure was thus overcharged by 'travel agent 5' in the amount of Sh56,280 (not considering service charge), constituting an overcharge of approximately 195 per cent," the report says.
Discounted fares
No approval existed for the granting of discounted fares exceeding the 10 per cent threshold by the Country Sales Manager.
In other instances, KQ officials over-anticipated business from corporate clients, giving them higher discounts but ended up getting little. In some cases, KQ sold less than eight tickets to corporates whom it had projected would bring in excess of Sh10 million in ticket sales.
The report recommends that KQ strengthens its ticket inventory, develop a database for all travel agents and review its pricing strategy on ticket pricing and the revenue management strategy.
"Fares should not only be market-driven as cost is as equally important. This will help fix the problem of issuing 60 per cent to 80 per cent of KQ tickets at low yielding fares," the report says.
It also urges KQ to introduce appropriate commissions and trade incentives for travel agents to drive corrective behaviour into their heads.
The report recommends disciplinary proceedings against all who have "conducted themselves contrary to the provision of company policies in dealing with ticket inventory".