Four top traffic cops accused of extorting junior police officers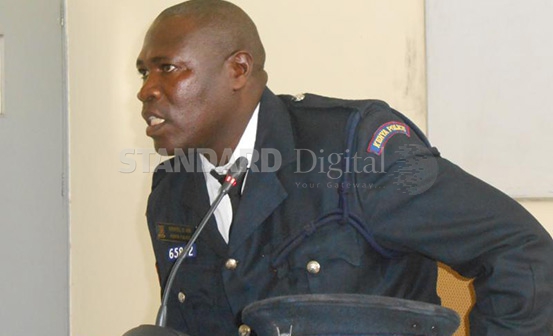 Four senior police officers adversely mentioned by their juniors for soliciting money from them will have to undergo vetting afresh, a commissioner with the National Police Service Commission has said.
Commissioner Ronald Musengi said the four officers are in the ranks of superintendent of police and senior superintendent of police.
Mr Musengi revealed this yesterday at the ongoing vetting of traffic police officers at the Government Training College in Mombasa. He, however, did not identity the officers who made the allegations against their senior commanders or indicate where they are currently based.
Yesterday's vetting was not without drama after an officer - Corporal Samuel Obote, based at Central Traffic Base in Mombasa disclaimed knowledge of three people who sent electronic money to his phone number. Mr Obote was accused of being uncooperative with the vetting panel for this disclaimer.
And Police Constable Jackson Mwendwa based at Changamwe Police Station, came to the panel without a statement of his electronic money transfers, alleging he had not been notified of this requirement.
He also claimed he had received cellphone calls, including from someone alleging to be from the National Service Commission, threatening to dismiss him from the police force.
Meanwhile, Commissioner Musengo said the implicated four senior police officers had been mentioned by the officer for demanding money.
The unnamed traffic police officer, allegedly, told the vetting panel that these senior officers extorted money from him or compelled him to raise money, illegally through his traffic assignment duties to share with them.
"The information came from the officer who also told us in depth about how the collection network operates," said Musengi. He said the officer told the Commission that he had sent a total of Sh198,000 in 49 batches.
The officer also said he had delivered Sh84,530 to one of the officers and further alleged he had sent money 31 times to yet another officer, adding up to Sh18,000.
The junior officer further claimed sending Sh32,000 to another officer in 20 tranches.
The unnamed officer, who is also being vetted for financial probity based on his Mpesa electronic money transfers and bank deposits between 2012 and 2013, alleged that he was a victim of extortion by senior officers.
Musengi, who was addressing journalists on the sidelines of the ongoing vetting exercise at the Government Training Institute in Mombasa said the officer told the Commission that he was living in constant anxiety due to his senior's constant demands for cash.
"The officer claims to be terrified by the cash demands from the four to an extent of his wife asking him to quit his job as traffic officer as it was giving him unnecessary pressure," said the commissioner.
He said the officer had admitted collecting bribes from motorists which he sent to his bosses.
Yesterday, Musengi said the Commission will summon the four officers for fresh vetting so that they could answer to the allegations.
He said the Commission would recall all officers who had undergone vetting but who are adversely mentioned in corrupt dealings for fresh vetting. "We had vetted these officers but we will recall them so they can tell us their side of the story," said Musengi.
On Thursday, junior traffic officers admitted to the panel that they had engaged in improper and illegal business transactions due to low pay, contravening the National Police Service Act.