Christians seek divine 'help' against runaway corruption and insecurity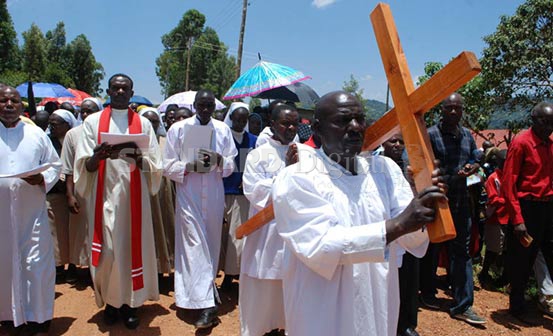 Christians marked Good Friday by seeking divine intervention against challenges facing the country.
The prayer items included unity among leaders, end to drought, sickness, tribalism, political instability and graft that have impacted negatively on development.
Faithful of various denominations ranging from the Catholic to evangelical churches gathered at their places of worship to pray for Kenya and the African continent.
In some churches, Christians re-enacted the crucifixion of Jesus Christ by walking on the streets carrying a cross while others kept night vigil praying.
Streets of major towns were empty while businesses remained closed for the better part of the day.
In Nairobi, the Catholic Archbishop, John Cardinal Njue and Fr Simon Kamomoe asked Kenyans to pray for the country as it struggles with corruption and insecurity.
They also asked the faithful to shun corrupt leaders who ruin the economy and the moral fabric of the country.
"You should not elect people who are corrupt, corrupt leaders are going to put the country in shambles. These are the leaders who will actually grind down the economy," said Fr Kamomoe.
The priest also asked Christians to pray for love in their families.
Assistant Archbishop African Inland Church Nyanza region Bernard Ondiek called upon leaders at the county and national level to unite Kenyans ahead of the 2017 General Election.
"Easter season presents an opportunity for people to foster reconciliation through spirituality and reflection on the teaching of Christ. It is a time when our leaders from the political divide should preach a message of peace," he said at the AIC Arena estate.
Better strategies
The Nakuru Catholic Diocese Bishop Morris Muhatia led the faithful in praying for establishment of better strategies to solve the country's problems.
He said Christians should remember the real meaning of Easter by working towards finding solution to challenges facing African nations.
"Our health sector is in shambles with most hospitals having no drugs for diseases like malaria, typhoid and cholera. HIV/Aids has continued to bring distress leaving many orphaned," he said.
Faithful were urged to exercise perseverance to overcome the problems they face in life.
"The suffering of Jesus should be emulated by all in the society as Christians should be able to suffer for the sake of others," said Sister Patricia Spheight.
She asked Christians to be on the fore front in the fight against poverty and marginalisation in the society.
In Kisumu County, faithful congregated in churches to mark the onset of Easter celebrations.
The Legio Maria faithful worshiped at their church in Kadero.
Pope Raphael Adika called on the faithful to observe peace and unity in their households and communities.
He said it is critical that families stay united to curb divorce and conflict.
"A family is the institution of Christ therefore we must act according to the teachings he bestowed upon us," said Adika.
Bishop Michael Ochieng of the Holy Spirit and Healing Church urged Kenyans to keep the day holy.
He called on the country's leadership to make informed decisions in dealing with radicalisation of the youths and ethnicity.
Meanwhile, in Mombasa Christians gathered in churches and held processions to mark Good Friday amid tight security.
The streets were empty with most businesses closed except for went recreation facilities and beaches which recorded booming business.
Most hotels in Mombasa, Watamu in Malindi and Diani in the South Coast have reported 80 per cent bed occupancy.
Yesterday delegations of ethnic Nubians from Kenya, South Sudan, Tanzania, Uganda gathered at Tudor Secondary in Mombasa to mark Annual International Nubian Cultural Extravaganza.
Mombasa also welcomed the Standing Committee of the China National Peoples Congress Chairman Zhang Dejiang who was accompanied by a delegation of 50 people. He was received at Moi International Airport by Governor Hassan Ali Joho, National Assembly Speaker Justin Muturi and Senator Hassan Omar.
A delegation of 30 expatriate teachers in Dubai in the United Arab Emirates also jetted into the coastal town to embark on charity work.
Elsewhere, Kenyans in major towns travelled up country to celebrate the holiday with family and their loved ones.