It's been 17 long years of agony for embassy bomb victims
It is two weeks to Kenya's 17th anniversary since Al Qaeda terrorists bombed the US embassy in Nairobi, killing 213 people, most of them Kenyans.
For thousands of victims maimed, widowed or orphaned by the 1998 attack, it has been close to two decades of utter agony. Their tireless quest for compensation has seen nearly every door they knock on slammed right on their faces. Many have fallen by the wayside, others have given up while some still hope someone will listen to them one day.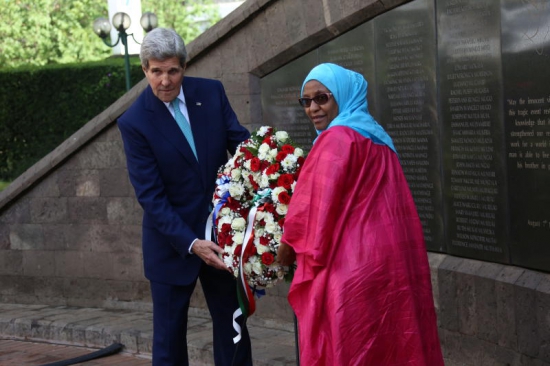 They were given hope of compensation five months after the bombing when Philip Musolino, a Washington attorney representing over 1,000 of them, filed a suit against bombing mastermind Osama bin Laden and the US government.
The 1999 suit sought to compel the US government to share with the victims frozen assets of bin Laden and his associates. In a separate lawsuit, Oakland-based civil rights lawyer John Burris, who represented a group of 2,700 other victims, also sought to lay claim to a share of the frozen funds.
"Musolino gave us false hope all the way to 2008, when he stopped communicating with us. Our emails no longer go through. We don't know what happened to Burris' case," says Collins Abraham, a survivor.
Scattered and not knowing who to seek help from for a decade, the victims regrouped in 2008 and approached local leaders for help.
Revived hopes
Prime Minister Raila Odinga revived their hopes when he, on August 7, 2008, pledged to form a committee comprising government and victims' representatives to meet the US ambassador and discuss the way forward. "Nothing has been done, to date. We have written to him several times reminding him of the promise, but with no reply," says George Ngige, chairman of the 7th August Bomb Blast Victims Association (Kenya), which was formed in 2011 to consolidate the push for compensation.
With no help forthcoming, the group resolved to directly engage the US embassy in Nairobi, sending a letter demanding compensation on November 21, 2011. With no response, the victims held a peaceful demonstration to the US embassy in Gigiri in August 2012, only to spend the night at Gigiri Police Station.
Thirty days later, the embassy gave a comprehensive response to their queries, ruling out further compensation and support of victims by the US Government.
"The people of the United States have provided nearly $45 million (Sh4.5 billion) in humanitarian and direct assistance to Kenyan nationals affected by the bombing, Kenyans institutions that provided care and support to the victims, and others who suffered losses during the bombing," read the letter dated August 30, 2012 and signed by the embassy's then acting Public Affairs Officer Christopher Snipes.
The embassy was equally uncompromising on the victims' query as to whether they could get a share of cash recovered from Osama's frozen accounts in the US, now that the terror king had been killed. "The US government does not hold nor is it aware of any assets in the United States that belonged to Osama bin Laden," it read.
The embassy advised the over 4,000 victims against engaging it directly.
In October 2012, the association wrote to then Foreign Affairs Minister Sam Ongeri informing him about the US directive and raising concerns that a USA District Judge had ruled that American victims of the blast be compensated.
"No one ever responded to the letter," says Ngige, 62, a father of six who suffered a fractured hip bone and cuts all over the body during the bombing.
Other leaders the victims officially approached for help are said to be former MPs Martha Karua and Bonny Khalwale. The victims saw a fresh opening to push for reparation when Jubilee government took over and wrote to President Uhuru Kenyatta two months into his tenure. "It is our sincere hope that we can place our hope on you to pursue our compensation," reads a copy of the letter to President Kenyatta. But they doubt if it reached him.
Not ready to give up, they wrote to the US ambassador Robert Godec a month later, requesting that up to $21.1 billion (Sh1.6 trillion) in terrorists' property allegedly held by the Foreign Assets Control, Department of the Treasury, be sold and the proceeds used to compensate victims. They are still waiting for a reply.
In his tour as Senator in 2006, President Obama made it clear that it is the policy of the US not to compensate victims of terror outside America. But the victims see his current visit as the best chance yet for them to get justice.
"I met Hillary Clinton and Joe Biden (US Vice President) during their visits to Kenya with no much help. I hope to meet Obama with a positive outcome," says Douglas Sidialo.
The victims appeal to President Kenyatta to officially push for their compensation when he meets Obama. Florence Waithera, who suffered a broken spinal cord during the attack says: "I have been forced to sell off my house and land to cater for medical bills and keep my children in school. I will fight to the end."