Independent Electoral and Boundaries Commission to register 25 million voters by 2017, plan shows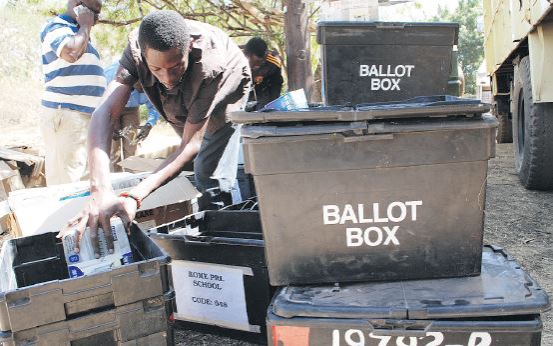 The Independent Electoral and Boundaries Commission (IEBC) plans to register more than 25 million Kenyans by 2017.
The commission says there are 11.4 million unregistered voters, nearly the same number as those who voted in the 2013 General Election.
A new IEBC Strategic Plan for 2015-2020 will be launched on July 9, and voter registration will be a key component.
"For the 2013 General Election, IEBC registered 14,388,781 against a target of 22.5 million in 2012. With the increase in population, the commission must consider 11.4 million eligible voters currently out of the voter register and increase the number of those registered to acceptable levels," reads the strategic plan seen by The Standard on Sunday.
The commission is also required to facilitate progressive realisation of the right to vote for Kenyans living out of the country.
"There is need to enhance participation of special groups in the electoral process. Women, youths and other marginalised groups require special attention during registration and voting," says the plan.
The commission was compelled to reschedule the launch of the strategic plan due to pressure from registered political parties under the Political Parties Liaison Committee (PPLC) after a meeting slated for tomorrow was postponed.
IEBC Chief Executive Officer Ezra Chiloba told The Standard on Sunday the launch, which was earlier scheduled for tomorrow will now be held on July 9.
On Wednesday, PPLC representative demanded they be given two weeks to go through the strategic plan and offer their input, arguing the commission had ignored them in developing the report.
The strategic plan is informed by the need to provide a roadmap for IEBC for the next five years as well as accommodate imperatives in the 2010 Constitution.
Better elections
The plan will enable IEBC manage elections, enhance public trust and participation and build institutional capacity, as well as improve the commission's financial resource base, human resource capacity and corporate governance.
To cultivate confidence and trust among Kenyans, the commission intends to strengthen collaboration with political parties, empower Kenyans to participate in electoral process and establish strategic partnerships and collaborations. Other issues the report focuses on include the need to enact amendments and new laws and regulations to strengthen the framework for effective management of elections.
It also seeks to improve the political party nomination process that has for many years generated conflicts and legal disputes among candidates.
"Related to this is the need to review the timelines relating to party hoping. There is also the need to streamline the guidelines relating to nomination of independent candidates," says part of the plan. IEBC also hopes to use the plan to address elections procurement and logistics.