A mother's fear as man eyes twins with albinism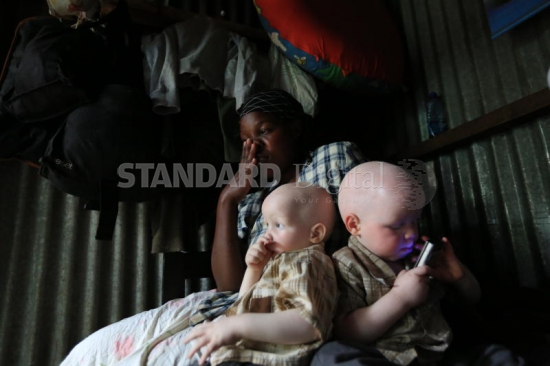 Typical of toddlers, Aldrin and Adrian are climbers, crawlers and carefree.
Every few minutes they are toppling each other for an object of interest, fighting over who should play with it and when the battle is won, the conqueror is disinterested and a battle over another object begins.
But their mother's heart is weary because one of her neighbours is preying on the twins with albinism unashamed that they are blameless two-year-olds, not good luck trinkets.
A year ago, he stopped by her one-room abode with visitors, took photos of Winrose Simiyu and her young family and left with a promise to help the mother of four secure support to take care of the twins. However, his subsequent visits have revealed unusual interest in the toddlers.
A careless comment that the mirror image brothers were merchandise that could fetch a handsome amount in neighbouring Tanzania has attracted the wrath of pro-albinism activists.
In October, Tanzanians will go to the polls for presidential and parliamentary elections creating fear among those with albinism that witchcraft charms will be highly sought emanating from a belief that they are charms to success and good-luck.
Early in the week Ms Simuyu and her sons were taken to a secure home and as Kenya today marks the inaugural International Albinism Awareness Day, calls to respect this special group have been amplified by this year's theme "Niko Na Haki".
The theme is driven by the need to protect the lives of children and adults with albinism due to the gruesome killings in Tanzania and which have spread to the East African region.
"Since he began the threats, I have not left the house for three days worried that he is around to kidnap my children and sell them in Tanzania," said Simiyu who lives with her two other sons with normal skin pigmentation and a younger sister.
She is currently the breadwinner as her husband is in Eldoret for treatment including physiotherapy for a chronic illness and meningitis, at Moi Teaching and Referral Hospital.
A week ago, The Standard on Saturday visited this family at their home in Ng'ando, Racecourse, and even though Simiyu has her heart in trepidation she agrees that Aldrin and Adrian are a blessing beyond measure.
As the interview takes off, Adrian, the older twin is more attracted to the photojournalist's lens while Aldrin snuggles on his mother's lap, preferring to observe from a safe distance, self-conscious to breastfeed in front of visitors.
"He doesn't breastfeed," Simiyu says and attributes the calmness to an onset of illness and shyness. Aldrin has been having a fever since yesterday but Adrian wants the camera and phone, she says explaining the character uniqueness in the pair.
And when the phone is handed to his brother, Adrian jumps from his mothers laps and wants a share of it and the clicking camera.
Simiyu describes the birth of her sons with albinism two years ago as a can that spurred emotions of joy and confusion: delighted because children in multiples are a blessing yet when she was informed that they had a 'different' appearance, her biggest task was how she would provide that special care in the face of limited resources in the world of casual jobs.
"When I recovered from cesarean section at Mbagathi hospital in Nairobi, the nurse and doctor informed me that I had been blessed with twins....That they had albinism did not worry me because God gives what he has in store for you," Simiyu remembers their birth last year.
The pair have two elder brothers, Samuel and Nelson, who are the alternative play partners when their mother wants the twins off her skirt so that she can perform household chores.
Her sister also helps to take care of the twins.
"It's a risky affair employing a house help to look after them especially if you do not know what they believe in," says Simiyu adding that the cost of a nanny is also prohibitive.
National Coordinator Albinism Society of Kenya Isaac Mwaura noted the Aldrin and Adrian case that needs multisectoral involvement to ensure they grow and thrive in a conducive environment.
"We have secured the safety and livelihood of the twins and their mother following threats that the children will be sold off in Tanzania. It's rather sad to see our police dragging their feet and the local administration against taking no action. A lot remains to be done if all Kenyans with albinism are to be secure," Mwaura said.
Simiyu will get a lifeline through a small scale business venture to support her young family courtesy of wellwishers.
Justin Muturi, pilot speak on helicopter 'mishap'
Over the Madaraka Day weekend, two helicopters came into bad weather; one crashed killing the lone pilot, the other, carrying Speaker of the National Assembly Justin Muturi landed safely in a shamba.