National Assembly Justin Muturi, pilot speak on helicopter 'mishap'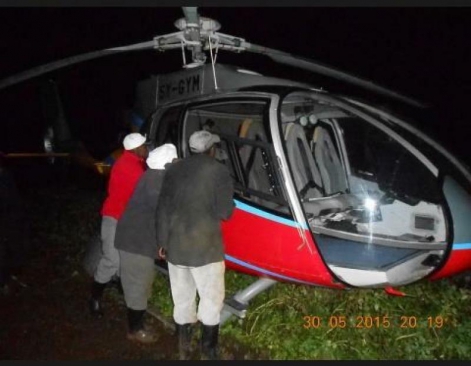 Over the Madaraka Day weekend, two helicopters came into bad weather; one crashed killing the lone pilot, the other, carrying Speaker of the National Assembly Justin Muturi landed safely in a shamba.
Insisting on its safety, the pilot who ferried Muturi, nominated Senator Beatrice Elachi and Kiminini MP Chris Wamalwa took us for a 'circuit,' ride, in the same Chopper on Wednesday.
Before the brief flight, Captain Evans Sigilai and Chief Engineer Peter Njagi, both who work for Lady Lori, a company that charters airplanes and helicopters did a pre-flight, a mandatory safety measure in aviation.
Painted in red with blue stripes and a dash of yellow at the tail, the B4 5Y- GYM, manufactured in France, looked inviting in the glow of the afternoon sun, were it not for the fact that choppers have become synonymous with bad news in Kenya.
However, as Captain Sigilai got in the cockpit, with Njagi besides him, he assured us that all will be well.
"Ninety eight percent of plane accidents is caused by bad weather," he said.
Soon, the chopper was airborne, going over Kibera and Karen, whose mansions and manicured lawns take your breath away.
Along the flight, which took 18 minutes, the Captain demonstrated safety measures he had earlier explained, on what a good pilot must do in case of an emergency.
But on Saturday, insists the Captain, as is the Speaker they did not do an emergency landing, rather it was a precautionary one.
"I read a Tweet from Robert Alai saying the chopper I was in had an emergency landing, at that time, I was happily having a drink somewhere in Runda," the Speaker said.
"June is the worst month of aviation in Kenya," says the pilot, "even George Saitoti and his entourage crashed in June and in case of bad weather, there is no need to fly."
On this Saturday, Muturi had attended a fundraiser in Kiminini, Trans Nzoia. They left at about 4 p.m., fueled in Eldoret, before landing in Kipipiri for another function, the groundbreaking ceremony of a Cancer Centre at Miharati.
"I was representing the Deputy President, politicians present were still making speeches and it was getting late," Muturi told us in his office.
The Captain insisted they must leave and by 6.30p.m., they were airborne again. The clouds were heavy and it kept on pushing them down.
"In aviation, you do not push bad weather. We agreed with the dignitaries to bring it down after 20 minutes of flying," says the captain.
We ask the Speaker "Was it scary?"
"Not at all; it was a smooth landing at a potato farm next to a Church."
As it happened, the plane landed near the Nyakio Ward MCA in Kinangop Constituency Joshua Mureithi's home. As the excited villagers milled around the chopper, the MCA arrived and was overjoyed to host the Speaker for a cup of tea in his house.
News travelled fast and Muturi was receiving calls from all over. The other waheshimiwas were driving from Kipipiri and the Speaker hitched a ride, before getting his vehicle around 'Soko Mjinga' near Kimende.
Captain Sigilai, who says he has been in worse flights in his 26 years experience remained behind and flew his machine Sunday.
He has done precautionary landings while flying retired Presidents Daniel Moi and Mwai Kibaki and even Uhuru Kenyatta before he became president. For Muturi, there was nothing scary on the Saturday flight. But he has been in a scary one previously.
"At around Naivasha, the weather was very bad and we hit by turbulence that the pilot had to change course. That was scary."