China pledges to make Kenya an industrial giant in Africa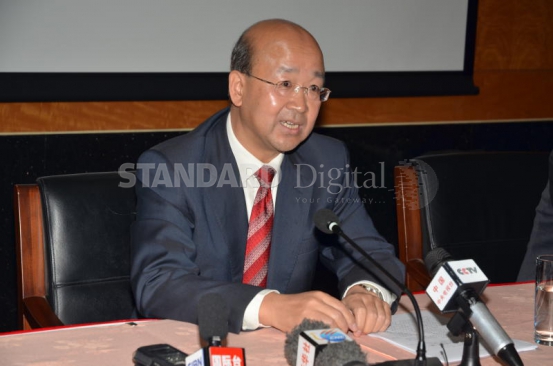 NAIROBI: Kenya stands to benefit from accelerated industrial development after it was listed by China as a model country for the Asian economic powerhouse's cooperation with Africa.
Chinese Ambassador to Kenya, Liu Xianfa, has said plans are underway to establish high-end industries and Economic Processing Zones in the country.
He said a 50-megawatt solar power generation plant, which will be among the largest in Africa, will also be soon set up in Garrisa County to create employment and reduce extremism in the region.
Dr Xianfa said Kenya has been selected as a pilot country due to inclusion of a solid industrial strategy in Vision 2030. "Kenya also has a strong industrial base; financial ability and regional influence in East and Central Africa," he stated during a press briefing in Nairobi.
He said the decision was made following extensive research and mutual exchanges between Kenya and China.
"We are, therefore, confident that the industrial cooperation with Kenya will be a model for other African countries. We are determined to help Kenya achieve sound and rapid development," he said.
The envoy identified insecurity and poor infrastructure as the main challenges Chinese investors have to deal with in the country.
Xianfa was quick to acknowledge accelerated growth in bilateral relations between the two countries since the Jubilee government assumed power. This has been evident in, among others, bilateral trade between the two countries, which rose to a record high of just over five billion US dollars in 2014, marking a 53 per cent increase from the previous year.
On the other hand, Chinese contract investment into Kenya last year stood at approximately 600 million dollars, which represents a ten per cent increase from 2013. China is already Kenya's largest source of financing, the largest construction project contractor and the second largest trading partner.
Amid the growing relations, and with a considerably high number of Kenyans going to China for business and other engagements, the envoy said the Chinese embassy in Nairobi has introduced an online visa appointment system to facilitate efficiency. "We will at the same time introduce special visa services for businessmen and other people who visit China frequently," Xianfa announced.
China, the world's second biggest economy, has been accused of fueling poaching of elephants and rhinos in Kenya due to a thriving illegal ivory market.
But Xianfa said his country opposes illegal trade and smuggling of ivory and other products, especially from endangered species and said strong measures have been put in place to discourage the trade.
He pointed to last month's destruction of 662kg of illegal ivory in the Chinese capital, as an indicator of the commitment to support anti-poaching war.