You're funding terror through civil society, Kenya protests to United States and Britain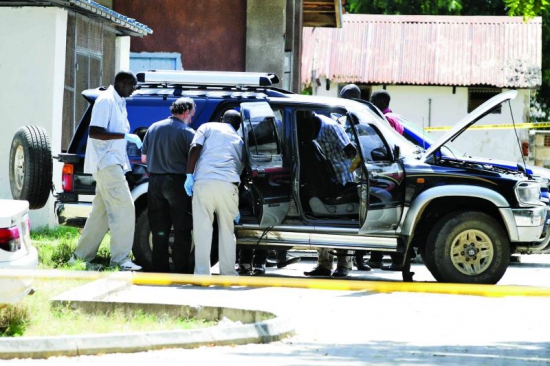 Irked by actions of some Civil Society Organizations (CSOs) that continue to offer legal and other support to suspected terrorists and financiers of the Al-Shabaab, the government has raised the red flag on foreign nations, dissuading them from funding such organisations.
The government, through the Ministry of Foreign Affairs, has communicated to the US, UK, Norway and Finland governments, informing them of the status of the "suspect CSOs" and how they are allegedly promoting Al-Shabaab activities.
A copy of the communication, referred to in diplomatic parlance as "note verbal" and which The Standard on Sunday has seen, requests the four nations to freeze their funding, particularly to Haki Africa and Muslim for Human Rights (Muhuri).
But in a swift and firm response through an article published in The Standard on Friday, US Ambassador Robert Godec applauded the role of civil society in development in Africa. He said: "Civil society helps counter violent, extremist ideologies. Counter-terrorism is most effective when governments involve local voices and communities, and civil society is a critical ally in this effort. As Kenya continues to face difficult security challenges, the government should partner with civil society to find solutions."
Haki Africa and Muhuri are among 85 listed groupings the government believes are financing the Al-Shabaab terror group in the country. While some of the foreign governments are on record promising to help Kenya fight terrorism, the government feels they are instead pouring oil on the already burning fire.
Legal aid
Speaking through the ministry's spokesman Mwenda Njoka, Interior Cabinet Secretary Joseph Nkaiserry protested that some the CSOs are being aided to offer legal assistance to suspected terrorists.
"This is only acceptable in Kenya. Try something like that elsewhere, say in Sweden, and such an organisation as well as the lawyers involved will surely face charges of abetting crime," reacted Njoka.
When The Standard on Sunday contacted the UK mission, Head of Communications Stephen Burns maintained "there is no new progress on this matter". He did not elaborate on the issue.
While addressing the Civil Society Organisations reference group's annual gathering in Nairobi on May 22, 2015, British High Commissioner Dr Christian Turner explained his country carries out "extensive due diligence on all the organisations we partner with," to ensure that they are not being used for illicit purposes, such as terrorist financing.
"We have not seen any evidence to suggest Haki Africa's activities pose a threat to national security or jeopardise Kenya's efforts at combating terrorism. If we were in possession of such evidence, we would of course take this extremely seriously," he said. However, it is this "give us the evidence" narrative by the foreign missions that the Kenyan authorities have taken offence with.
"We don't have to!" reacts Njoka. "As a country, we have investigated and have established that some groups are hiding under the cover of human rights to defend culprits."
But in his address to CSOs, Turner held that: "We need to work with communities at a local level if we are to defeat the scourge of terrorism. The UK experience is that winning the trust of communities is a critical component of the fight against terror. Communities beat terrorism."
Efforts by The Standard on Sunday to secure a comment from Foreign Affairs Cabinet Secretary, Amina Mohammed, over the communication to the foreign missions were fruitless. She neither answered her call nor responded to our text message. Similarly, responses from the US, Norway and Finland embassies had not come through by the time of going to the press.
However, details of activities of Haki Africa and Muhuri pieced together by The Standard on Sunday from multiple sources over the last one month have curious revelations. Sources within government say the two organisations have actively been fund-raising for legal representation for Al-Shabaab terror suspects.
Terror links
When the late Abubakar Sharif Ahmed, alias "Makaburi" had been arrested by police over alleged links to the Al-Shabaab in February 2014, for instance, Haki Africa reportedly paid Sh5 million to redeem a land title deed that had been deposited by his wife as security.
Haki Africa, according to intelligence reports, is similarly accused of fund-raising with a view to offer legal representation for Khatib Kayuni, a terror suspect who is currently in remand at Shimo La Tewa prison.
The security agencies also claim that Muhuri is closely in touch with all Al-Shabaab cell members in the country. According to our sources, Muhuri disseminates extremist misinformation on behalf of the terror group and also acts as a link to international human rights groups like Amnesty International.
"According to intelligence reports on the organisation, Muhuri was in touch with Al- Shabaab and other operatives at the Coast like the late Makaburi, between 2012 and 2013," says our source, whose identity we cannot disclose for security reasons. Indeed the senior intelligence officer details various instances to demonstrate a link between Muhuri and Haki Africa officials and Al-Shabaab. On November 17, 2014, for instance, Muhuri chairman Khalef Khalif visited 156 youths arrested at Sakina and Musa mosques and assured the suspects that his organisation would engage the police to ensure their release or alternatively arrange for their legal representation.
Two days later, Muhuri officials Fahad Changi, Kelly Aduo, Simon Kazungu and Adam Chivumba presented to Mombasa County Commissioner Nelson Marwa, two individuals who were surrendering to avoid being arrested by the police who were looking for them following the Sakina and Musa mosque operation. The officer claimed the two, Abdulkarim Mzee and Swaleh Ramadhan, had links to Al Shabaab.
In the latter case, Muhuri and Haki Africa officials have defended their action, saying it complemented the anti-terrorism efforts of security forces. But the activities of Muhuri and Haki Africa have and continue to generate mixed reactions, including among Muslim clerics. On October 10, 2014 for instance, the organising secretary of the Council of Imams and Preachers of Kenya (CIPK), Shiekh Khalifa Mohammed, condemned the two for what he termed "openly and constantly supporting youths associating themselves with Al-Shabaab in the country". But Khalef has dismissed claims against his organisation, terming them "fabricated lies geared at muzzling civil society opposed to atrocities committed against citizens".
Bigger picture
"Let us focus on the bigger picture, which is that Muhuri and Haki Africa are only on the frontline at the moment. Otherwise this could mark the beginning of the end of civil society under this government," he said. Claiming the government is deliberately targeting the Muslim community in its war on terror, Khalef said Muhuri has had to come in to cushion youth Muslims against fears of being executed by safely handing over suspects to the police.
He is, however, unwilling to divulge the "big names" of terror suspects they have helped. And arguing that the freedom of free trial is anchored in Article 25 of the Constitution, human rights lawyer Harun Ndubi, terms the government's rage over representation of Al-Shabaab suspects as misplaced. "Every person, including the devil himself, has a right to be represented if they are faced with a legal challenge," observes Ndubi, the lawyer for Haki Africa.
Ndubi claims the sole reason why the government is opposed to representation of Al-Shabaab suspects is because, "they know that their investigations are hollow and below legal par — that if legal challenge is allowed their weak investigations will be exposed".
In the meantime, the legality of Haki Africa and Muhuri has been brought to question. Executive Director of the NGOs Coordination Board Fazul Mahamed says Haki Africa is not a registered entity under the NGO's Act of 1992 but that it is a mere off-shoot of Muhuri. And the NGO boss is not amused that Haki Africa is even operating a bank account without an authorisation letter from the NGO Board as per the NGOs Act.
No returns
A check by The Standard on Sunday at the NGO Board has revealed that Muhuri has not filed its annual returns and audited accounts for the last two years as required by Law.
Ndubi describes the latest manoeuvres as diversionary: "The state allegations have now been reduced from support for terrorism to conformity with the law. This is deep fishing." He says freedom of association, as guaranteed by the Constitution, is not pegged on registration. Nonetheless the government remains enraged by the stance taken by certain countries to fund the few blacklisted CSOs.
Interior CS, through his spokesman Njoka, raises questions as to what the foreign missions are up to "even as they keep telling Kenyans that they stand with the Kenya government in the fight against terror".
Our investigations reveal that Muhuri and Haki Africa have over the years been enjoying from various agencies in a host of countries, mainly for community peace and de-radicalisation projects.
In September 2014, for instance, Germany signed a two-year contract with Muhuri to fund de-radicalisation projects to the tune of Sh31 million.
The project stretches to October 2016. Intelligence sources also indicate Muhuri was a recipient of funding from the PACT Kenya under the Kenya Civil Society Strengthening Programme for a period of one year for building capacity of local community in peace building and conflict management at the Coast region. Other major sources of funding for Muhuri and Haki Africa include International Budget Partnership, Royal Danish Embassy, Criminal Justice Fund, Open Society of East Africa, URAIA and the Ford Foundation.