How you can help nip bomb attacks in the bud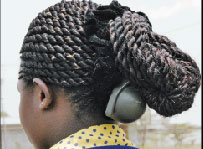 A woman with an IED tied to her hair.
[PHOTOS: COLLINS KWEYU/STANDARD]
By ALLY JAMAH
Kenya: What would you do if you noticed a bag, which doesn't seem to have an owner, sitting on the pavement just a few metres from where you are at a bus stop?
Well, different Kenyans will behave differently. There are those, and they are in the majority, who would ignore the bag and continue waiting for a matatu, chatting on their mobile phones or with friends.
Then there is the well-meaning lot — people who will start looking for the owner of the luggage, asking all and sundry whether the neglected bag belongs to them.
And then there are Kenyans, and they are not few especially in the city, who will see in the bag a get-rich-quick opportunity. They will snatch the beautiful-looking bag and disappear with it at top speed, salivating at the thought of the valuables that could be in it!
But all these reactions, according to security experts, are harebrained. Such a bag should be treated with suspicion until it's proven "innocent".
The innocent-looking bag, they point out, could be a serious security threat — a terrorists' deathtrap. It could be laden with lethal improvised explosive devices (IEDs) only moments away from exploding and destroying lives and property.
Security agencies, that have been on high alert looking out for any terrorist threats on Kenyan soil, have been urging Kenyans to be more vigilant and help them make it difficult for terrorists to execute their nefarious plots.
Fortunately, the highly specialised military explosive experts of the Kenya Army Corps of Engineers have now joined the battle against the acute threat of IEDs to make Kenyans safer.
The military engineers, who have seen action in the deadly frontlines of Somalia and neutralised hundreds of IEDs in the battle front, say Kenyans have no option but to be more conscious of the threat of IEDs, which terrorists are increasingly using to mount devastating attacks.
"The trend is that terrorists are focusing on soft targets such as shopping malls, market places, streets, and public squares as they cannot engage military forces directly. But the good news is that a higher level of vigilance among Kenyans would prevent many of the attacks," says Captain Arthur Ang'iela, a bomb expert in the military.
Ang'iela was speaking at Nairobi's Embakasi Barracks as he displayed an array of common IEDs that terrorists commonly use against civilians to exact maximum death and destruction.
He says IEDs are lethal and easily assembled using improvised locally available materials such as fertilisers, detergents, chemicals like ammonia, urea, nitrates and calcium as well as fuels, alcohol and military munitions.
In addition, he says, they can be easily disguised in bags or boxes and transported swiftly before being deployed at a crowded public place to wreak havoc on unsuspecting people.
"We are not asking Kenyans to panic or be in fear when they are in public places. We are just asking them to be more vigilant since that simple measure will go a long way in foiling the plans of terrorists. Succumbing to fear will only make the terrorists happy," he says.
The bomb experts advise Kenyans to be keenly aware of their surroundings when in public places such as busy streets, matatus or shopping malls. This is technically called "situational awareness".
On the contrary, most Kenyans don't care much about what is going on around them, with some focusing on their mobile phones, reading books or chatting with their friends. Others even sleep in public service vehicles, leaving potential terrorists to wreak havoc unimpeded.
"Always look out for anything out of place, ensuring that no one around you drops or leaves any item or luggage. In case of unattended luggage or package, do not pick it but notify the police. It could be a very lethal IED just waiting to explode," says Ang'iela.
Warrant Officer Class 2 James Getate explains that public events or even crowded business and working places need comprehensive security arrangements, saying laxity in such places expose the lives and property to great risk from IEDs.
"Vehicles should be checked thoroughly and parked far off from where people are gathering to minimise damage in case of an explosion," he says, demonstrating how a proper screening of cars should be done, complete with sniffer dogs.
On his part, Major Hollypass Langat, the Officer Commanding the 1st Canine Regiment, recommends that key government installations and corporate entities upgrade their security systems against IEDs by investing in specially-trained dogs to sniff out concealed explosives in cars accessing their premises.
"These dogs can conduct a swift and thorough search of cars in a very short time and detect even the smallest amounts of explosive materials. Their sense of smell is so strong that they can even detect explosives carried in the car in the last 72 hours," he says
Indeed, during a demo at the Barracks, two military dogs were able to sniff out an explosive that had been carefully hidden under the car.
In residential areas, the bomb experts have called upon Kenyans to be on the lookout for red flags such as houses being perpetually closed and curtains drawn or chemical smells emanating from them.