Fiancée still loves Kenya's most romantic fat man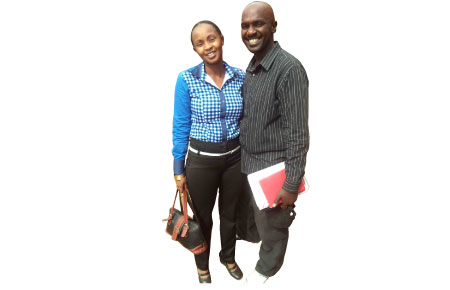 Eunice Wangechi and Levi Kones
posing for a photo
By SILAH KOSKEI
NAIROBI, KENYA: The man now considered one of the most romantic Kenyans is still loved by his fiancée although he faces assault charges at an Eldoret court.
Eunice Wangechi has told journalists that she is ready to marry Levi Kones, probably the second Kenyan known to have proposed to his girlfriend on live TV.
Eunice told The Nairobian: "I love him. Why should I leave him? Levi came to my life and filled the space in my heart that has always been empty, with his love."
The mother of two girls aged 12 and 4 said although the proposal on November 3 – at Citizen TV's Slimpossible show grand finale – shocked her, it was an ideal moment.
"That very moment when he proposed to me, I accepted everything about him and vowed in my heart to love him," she said.
Eunice, who works for Royal Media Services, was responding to questions by journalists in Eldoret with her fiancé following the accusations over his past relationship.
Kones made headlines a day after he proposed to Eunice when an Eldoret court issued a warrant for his arrest over assault of his former girlfriend Faustine Naibei.
Faustine filed the charges on October 19 at the court.
Kones said: "I was arrested over claims of having assaulted her and after recording a statement, I pleaded with them to give me time to complete the (Slimpossible) show in order for the investigations to begin." The court accepted his request.
He was told to appear in court on November 5 to answer to the charges.
However, he claimed that a day before the hearing, the Eldoret court issued a warrant of arrest for failing to appear in court.
"I was surprised to read in the papers over a warrant of arrest yet the case was indeed meant to be heard on November 5 and not 4 as earlier mentioned," he said.
He told journalists that his love for Eunice, his new flame, is real and that the ongoing assault charges will not deter them from having a successful family life.
"Had I been a lousy guy who goes ahead and batters every woman I meet, I would not have dared proposed to her fully aware that the whole world was watching," he said.
Levi said that their love blossomed during the Slimpossible competition. He said their engagement will finally lead to marriage.
"When all the challenges are over, we will cement our relationship by tying the knot next year," he said.
He noted that although he lost the coveted Sh1 million reward, he is happy that he "won the love of his life".
Eunice vowed to stand by her man despite the scandal.
Levi, whose mention of the case is set for November 21, has said he will sue Faustine for defamation.