Political feud that nearly denied Kenya autonomy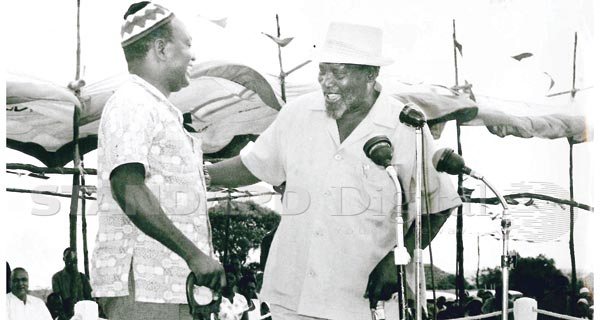 Kilifi South MP Ronald Ngala (left) and first President Jomo Kenyatta during a meeting in Kwale District in 1966. [Photo: File/Standard]
By Kenneth Kwama
Kenya: A bitter feud over which form of government should be adopted in Kenya after independence, pitting Kanu against Kadu in early 1960s nearly denied the country freedom.
The leadership of both parties had two polarising proposals for a Constitution after independence and their plans seemed irreconcilable, yet each faction had warned that unless its ideas were accepted, the rival tribes would revert to spear and poisoned arrow in 'Congo-style civil war'.
"The conflict involves Kenya's two major parties and their bosses. Kanu's grey-bearded, rheumy-eyed Jomo Kenyatta, 71, and restrained Ronald Ngala, 39, president of Kadu and Kenya's leader of government business."
The narrative on the source of the dispute is the same in all historical accounts. Each plan reflected the fears of either party. Kanu's drew its strength overwhelmingly from three most powerful tribes in the early 1960s; Kikuyu, Luo and Kamba.
Together, these three tribes represented nearly half of the country's entire population.
The independence party also commanded the allegiance of most detribalised urban Africans, who devoutly believed Kenyatta's pledge that there would be work or land for everyone after independence.
Big tribes
Kadu, on the other hand, drew most of its support from Maasai, Luhya and other smaller tribes who, though a minority, occupied far bigger areas than the land-starved people represented by Kanu. Kadu's majimbo (regionalism) plan was thus aimed at protecting rights of the smaller, often nomadic tribes against political and territorial domination by big tribes.
Though Kanu had countered with reassuring proposals for a strong bill of rights and an independent Judiciary, Kadu's leaders were apprehensive. Their contention was that impartial administration of justice would be hampered for years by Kenya's almost total lack of trained native lawyers and reluctance of white officials to stay on.
"After eight years' detention of his ringleader's role in Mau Mau uprisings, Kenyatta is still a hero to millions of Africans. He insists on a strong centralised government with a one-House legislature and an elected Head of State. Kadu urges a Swiss-style federation of six largely autonomous regional constituencies, divided along tribal lines, with a two-house federal Parliament and a coalition Cabinet," reported Time magazine in an archived issue.
According to the reports, of the more than a dozen countries on three continents that had won independence from Britain since World War II, none had seemed as ill-prepared for nationhood as Kenya.
Yet, British officials had feared that failure to grant Kenya independence would lead to a bloody resurgence of Mau Mau.
"Thus, once again, Africa's remote and bizarre tribal politics were thrust at puzzled European officials, who were trying to give a colonial country freedom without chaos," reported Time magazine.
The story titled 'Last chance conference' was in reference to a meeting that was called by British colonial administration at London's Lancaster House to discuss Kenya's independence.
"Together with 62 other delegates from Kenya and ten British officials, the colonial chiefs were attending what was already billed as "the last-chance" conference. Its aim: to prepare the way for Kenya's independence."