How one school has ended up with four sets of twins
COUNTIES
By - | March 30th 2013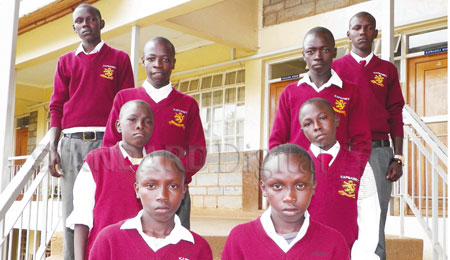 From front to back) Walter Kiptanui and twin Eli*as Kipchumba, Dickson Korir with twin Dan Korir, Abraham Kipchirchir with twin Benjamin Kokogey, KipronoKolum with twin KibetKolum.
By Titus Too
KENYA: When Kapsabet Boys High School in Nandi selects its Form One students for annual intake, the process is done purely on merit.
But when admission letters were sent to the now Form Three students to join Form One in 2011, there were two sets of twins. Two other sets were realised this year as the school admitted Form Ones.
This has been seen as a blessing, with another being that of crossing over to the double index digit in performance of 10.4 mean grade.
Kibet Kollum of Form Three East and Kiprono Kollum of Form Three South are 16. Dan Kipyator Korir of Form Three East and his twin brother Dickson Korir of Form Three North are 14-years-old.
The Kollum set of twins scored 381 marks in KCPE and received admission letters from the school. Dickson, on the other hand, scored 391 marks while his twin brother Dan got 390 marks, but both were admitted to the same school.
A striking set in Form One had a special case on admission day, forcing the school management board to intervene before they were admitted.
Elias Kipchumba Rotich of Form One North is twin brother to Walter Kiptanui Rotich of Form One South. Walter scored 398 marks in KCPE and got admitted to Kapsabet Boys High School, while Elias had 396 marks and the admission letter he received was of Baringo High School. "Our parents decided to bring both of us to Kapsabet Boys on reporting day. I had been worried because we had not received admission to the same school," said Walter.
Walter, during an interview at their Kapsabet Boys School, describes his twin brother as a close friend who he interacts with more than anyone else.
Their parents did not want to separate them and since they had scored almost equal marks, they requested the school board to intervene. That's how both of them ended up at Kapsabet Boys.
The other set in Form One comprises of Benjamin Kipkogey, who scored 386 marks in KCPE and Abraham Kipchirchir, who scored 367 marks.
The four sets of twins have become an inspiration to the rest of the students owing to their sterling performance.
Differentiating each set of twins has posed a great challenge to students and teachers. "Students confuse us because we are identical. We have been forced to buy watches of different colours to help," says Kibet Kollum.
Kibet wears an orange and metallic watch while Kiprono wears a purple one. Because of their closeness, the boys do not mind when they are punished by mistake for sins committed by their twin.
Dan and Dickson have the same challenge. "I was once punished when one of the prefects reported my twin brother to the teachers for not dressing appropriately for games," says Dickson.
Elias and Walter are already scoring similar marks in the Continuous Assessment Tests.
"We do exams and on average we achieve equal marks. Whenever Elias beats me by two marks in English, I beat him by the same margin in another subject like mathematics. In the end we tie," says Walter.
The twins are happy to be together because they share experiences.
The Kollum twins both want to be pilots in future, while Dickson and Dan want to become lawyer and a human rights activist. Walter and Elias both want to be doctors while Abraham Kipchirchir and Benjamin Kipkogey want to be doctor and Engineer.
Tito Serem, a teacher at the school, says: "Identity of the twin students is a problem. I at one time caned one of them for a mistake committed by his twin brother. I apologized." Kipchumba Maiyo, the school Principal, says: "Except for one case, we only learnt after they had reported that the school had sets of twins. These twins are 'A' students."
He describes the presence of the twins as a 'surprise blessing' that the school is happy to have in its new national status, as it continues to show improvement in performance index annually.
Of the 256 candidates who sat KCSE at Kapsabet Boys last year, 53 scored As, 90 A-, 55 B+, 36 B, 18 B-, and 4 C+.