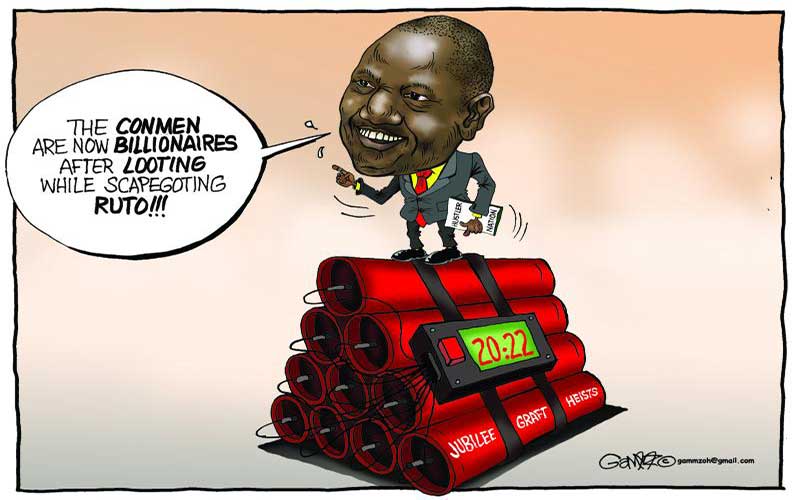 DP William Ruto and his allies have time and again complained about the 'deep state' - a supposedly shadowy cabal of bureaucrats buried deep within government.
His latest attack against this phantom ogre chasing after his 2022 ambitions was over the weekend when according to The Standard, he asked his detractors: "Can't you find something better to do with your time? Please! Give me a break!"
A riled Ruto scoffed at those opposed to his presidential bid to let him be, reiterating his earlier claims that he was aware of a plot by 'the system' to bludgeon his efforts into oblivion.
It is time someone told our self-declared Hustler Nation's clerk that his biggest impediment isn't the deep state. It's the 'shallow state' — which exists right in his circle.
Read More
His closest paladins have been expressing unremitting public display of fury against President Kenyatta, a move that walks, quacks and smells like a red-herring. That the country is already engulfed in nuances of election fever is no secret. Shouldn't Dr Ruto and his closest knights be focused on issues if he wants the seat as badly as he projects? I am inclined to believe that Kenyans are being directed away from the great questions of the day, to angrily focus, instead, on an individual.
The 2022 election is being determined on the platform of angst. A section of our political class thrives in positioning bellicose election agenda against individuals and communities. In the process, important issues are sauntered underneath.
Belligerence is to Kenyan politics what cheese is to a burger. It is what gives it its flavour - sad as that might be.
In 2002, public anger was rallied against the Kanu regime. The masses were so angry they beat the system. But anger is fickle and its repercussion dire. Soon, the anger induced victory turned into chalice when parties involved fell out. Consequently, another anger fuelled election in 2007 set the country into fatal flames. The fear of ending up at the ICC might have prevented a repeat of the same in 2013, but they were at it again in 2017. Churning hate through public campaigns and via social media e.g. through Cambridge Analytica.
Jubilee stirred anger in the public by campaigning against a 'mganga and a muguruki'- a mad witch doctor and his cabal. NASA did not take it lying down and fired back on a platform of removing a 'drunk driver and his kleptomaniac of a conductor'. Need I say that it led to chaos that were only quelled by the camaraderie between Kenyatta and Raila?
That aside, the talk by Ruto's mouthpieces look like a crafted plan to distract us from asking the pertinent questions like, where are the promises the DP loudly and elaborately promised the masses in the first and second term? Has he not been part of the so-called system and never ceased to throw hubris-laden snide at opposition?
Instead, such discourses that Kenyans should be having are sacrificed under pious anger, holier-than-thou political campaigns disguised as 'beating the system.'
At the centre of this tactic the DP is likely to rue in the foreseeable future are his two fiercest defenders. Sudi and Elgeyo Marakwet Senator Kipchumba Murkomen. Outside Parliament, Sudi shoots words with the ferocity of atomic bomb.
Then you have Murkomen whose tweets and media interviews ooze an astounding braggadocio and fury of a Mexican fighting bull. Mr Ruto, Ralph Waldo Emerson, the American Philosopher and leader of transcendentalism which basically is an ideology that roots for insight over logic posited thus: "Let me never fall into the vulgar mistake of dreaming that I am persecuted whenever I am contradicted."
For someone who has been touted as a shrewd political virtuoso, have you not seen that your circle is working more furiously to cripple you more than the so-called deep state? Isn't this convenient, situational blindness and deafness to their folly rubbishing your resume as a master strategist of the political chess?
Your sound boards are cannibalising your ambition. Their remarks have made sure the canyon between you and your boss President Kenyatta is wider than the great Clyde River.
Granted, the anti-Ruto Jubilee wing led by party vice chair David Murathe are equally rabble-rousers per excellence. Since the start of Uhuru's second term, he has launched onslaught after onslaught on Ruto and his sympathisers. But Murathe and co have nothing to lose. That is why it is imperative for the DP to take a parallel trajectory.
- Dr Oyoo is a businessman in Texas, USA