Disarmament a hard but honourable act, we must all support it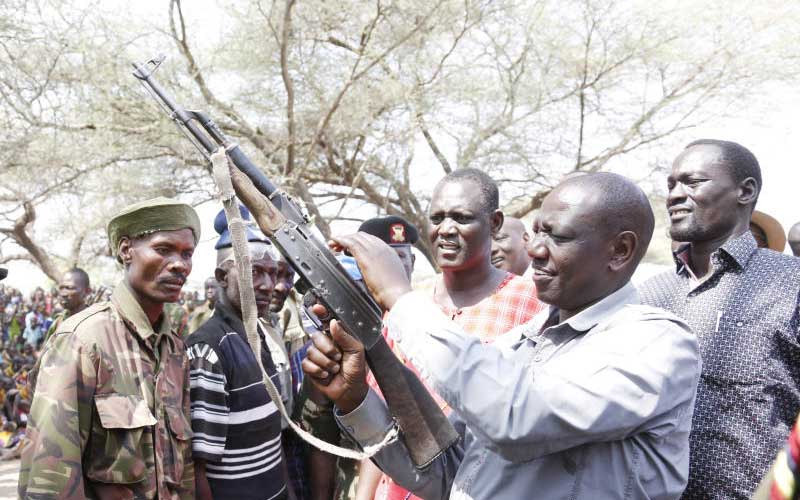 Every year the world spends up to $2 trillion on weapons that are primarily designed to maim and kill.
We live in a very dangerous world and it is getting easier all the time to access these weapons of destruction. Kenya's military spending in 2018 was Sh109.7 billion and the 2019/20 budget almost certainly increased expenditure.
Regretfully, most weapons in Kenya are neither acquired legally nor licenced by the state. We are all too aware of issues of insecurity and the problems of banditry and cattle rustling in pastoralist communities as well as gang crime in urban and rural areas.
There are just too many illegal weapons, yet it is encouraging to hear that Interior Cabinet Secretary Fred Matiang'i and Inspector General Police Hilary Mutyambai have put in place a comprehensive plan to disarm National Police Reserves (NPRs ) and all illegal arms holders.
They face a formidable challenge. According to the 2018 Small Arms Survey from the Geneva based think tank, there are 750,000 illegal weapons in the country. The plan to disarm the police reserves faces formidable challenges too as there are no records on guns and ammunition issued to them.
However, both men recently claimed that to date, they have recovered 10,000 illegal guns and twice as many ammunitions. This is the start on a very long journey.
Yet to disarm and to improve security is an honourable exercise that deserves support. The Kenya Police Reserves were established in 1948 to give communities more responsibility for their own security. In reality, it proved to be a means to treat pastoralists as second class citizens left to their own devices to defend themselves. KPRs were neither paid, nor clothed or adequately supervised. They became cannon fodder for marauding gangs and their acronym KPR came to be derogatively referred to as Kufa Pamoja Na Raia (die with the citizens).
Worse still, they became the private militia of politicians. I know of a politician who campaigned at election time by giving out bullets to his voters. Let us not forget that KPRs were usually issued with ancient weapons that were no match for the aggressors.
But without supervision and payment, even the well intentioned reserve frequently turned their weapons to crime. One reserve once casually told me, 'bunduki inaomba kazi' (the gun will demand a job). So police reserves added to insecurity in their areas rather than reducing it.
Frequent attempts have been made in the past to disarm pastoralists and all of them failed for two reasons.
The government had no clear alternative security plan and they yielded to political interference from local warlords who had been benefiting from insecurity and professional cattle rustling. I hope Matiang'i and Mutyambai team are aware of the pitfalls and have measures in place to mitigate these threats.
The GSU, Anti-Stock Theft Unit as well as the Rapid Deployment Unit in strategic border regions have the potential to fill the gap left when the reserves and civilians are disarmed.
This plan must be thorough, however, and there must be public participation and ownership if it is to succeed. Forceful disarmament may put local communities at risk and on a collision course with the state machinery.
While insecurity is a national concern, there are regional and international challenges that must be considered as the plan is rolled out. Turkana, for example, borders Uganda, Ethiopia and South Sudan. There are various threats from each of their neighbours.
Uganda has disarmed the Karimojong for the most part and Turkanas must leave their weapons at home when they cross the border for grazing and water during the dry seasons.
However, South Sudan is a lawless country, so the chances of a mutual disarmament taking place in the near future are remote at best. Ethiopia has the potential to cooperate but it needs working on.
The long term benefits far outweigh the threats. Turkana suffers regular famine cycles because of insecurity since the best grazing land is along their borders that they cannot access. A peaceful, secure Kenya will also bring prosperity and investment. That is the big selling point. Go for it Mr Matiang'i and IG Mutyambai.
- [email protected] @GabrielDolan1