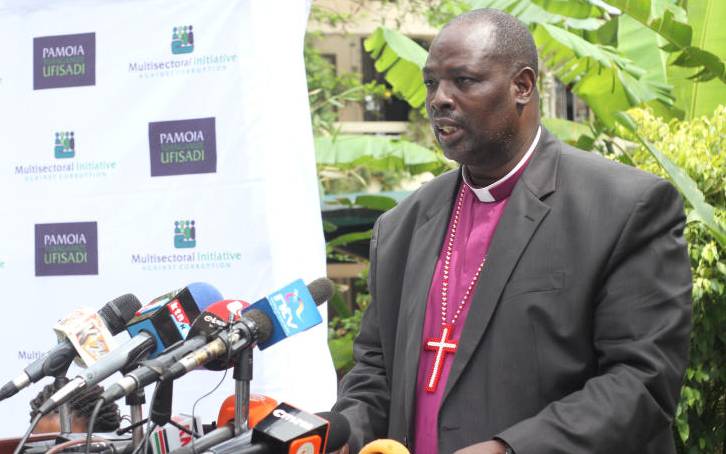 "Clerics to leaders: Keep your money!" The headlined beamed on The Standard newspaper on Wednesday, April 24, 2019. This encapsulated the raging debate on how church leaders are fighting donations from politicians whom they suspect to be ferrying looted cash to the pulpit.
In the story, the Anglican Church of Kenya Archbishop Jackson ole Sapit was quoted speaking in an event hosted by Kenya Private Sector Alliance where he urged colleagues to halt the appetite for politicians' money.
He said: "Let us not allow harambee money to become a subtle way of sanitising corrupt leaders."
Bishop Ole Sapit acknowledged that giving is not sin, but it should be from a 'clean' possession offered in secret as per the dictates of the holy book- the Bible.
His utterances elicited reactions from the Deputy President William Ruto and his close ally, Senate Majority Leader Kipchumba Murkomen.
"…We will continue to worship Jehovah with our hearts and substance. We are unashamed of our God and unapologetic of our faith. We are christians first, other titles after," DP Ruto tweeted.
"It will be great to see churches ban all harambees. It will be even greater to see them ban sinners from contributing tithes and offerings," said Senator Murkomen.
With politicians using debate to wage political wars, it seems that the theatrics are burying the clarity of concept of giving as per the biblical dictates. One may be left to wonder and ask certain questions as follows: Do church donations qualify as tithes or offerings, and under what circumstance should it be given?
Does the church have capacity to determine 'clean or dirty money,' and what happens when one donates 'dirty' money to the church?
Most Christians attribute their religious practices to the biblical teachings. When it comes to giving tithes, the book of Malachi 2:10 has always been a referral point. It notes: "Bring ye all the tithes into the storehouse, that there may be meat in mine house, and prove me now herewith, saith the LORD of hosts, if I will not open you the windows of heaven, and pour you out a blessing, that there shall not be room enough to receive it." (KJV).
The text mandates believers to give for the sake of the gospel and such makes giving tithes a paramount duty of a christian.
Offerings are any material substances given to God for certain purposes. Such may involve submission for forgiveness of sins or a thanks giving donation to God. In the Old Testament, offerings were made for remission and forgiveness of sins (1 Kings 18:36).
In this sense, the millions that political leaders give may not after all count as tithe-which is a tenth of one's earning- but offerings depending on their intended purpose.
Bishop Ole Sapit asserted that giving ought to be a secret affair between the believer and God. In other words, whoever is giving should desist from publicising it and acting boastfully, lest or she plunges into sin.
In Mathew 6:3, Jesus Christ was teaching people how to pray, and this involves giving. He said "but when you give to the needy, do not let your left hand know what your right hand is doing." (NIV).
Apart from humility, the Bible provides tales of those who suffered as a result of holding donations made to God. One man known as Ananias and his wife Sapphira encountered a sad fate in the book of Acts 5, when they sold possession and gave meagre amount for offering. Now Apostle Peter, one of Jesus'apostles rebuke them for deceiving God and they both died instantly.
The tale of the couple does not only communicate cheerful and honest giving; but also calls for giving 'clean' offering.
'Dirty' offering
The church lacks mechanism for determining 'clean money' or 'dirty money' as Bishop Timothy Gichere of ACK Mt Kenya Doicese recently said. However, any possession taken to God is expected to be clean for it is ordained unto good work.
Another biblical tale is told of the first king of biblical Israel, King Saul. He was commanded by God (in 1 Samuel Chapter 15) to attack and defeat Amalekites who were idol worshippers and to spare neither people nor their livestock. But when Saul captured the city, his army came back with livestock to sacrifice to God. God was angry for Saul defied His word and looted from the enemy.
As a result, King Saul's reign gradually came to an end for offering a looted livestock as sacrifice to God. In this regard, taking money looted from public coffers is a grievous undertaking that God will not leave unpunished.
Again, the holy book says that all men and women under the sun are not righteous (Romans 3:23). On the flipside, the tithes and offerings are to be offered by same people who are struggling with sins. This postulates that no one has the moral qualification to offer tithes and offerings. Even the most corrupt individual, murderer or a rapist can worship God in tithes and offering.
The church may not have the ability to vet the offerings and tithes, but God promises tough consequences for those who rob the innocent and take their loot as holy sacrifice.
Writer is a Sub-Editor with the Standard Digital