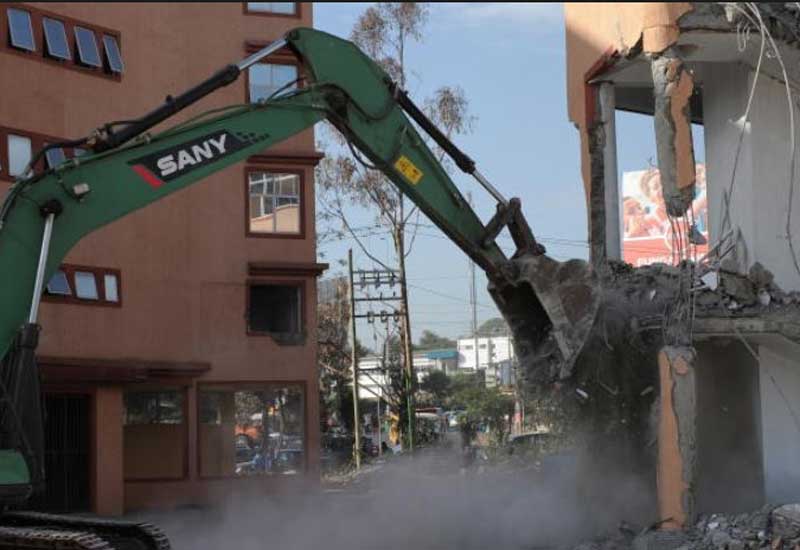 The recent demolitions have left many in the construction industry with unanswered questions and concerns. Kenya's construction industry is a very well-regulated sector with lucid construction approval and inspection guidelines stipulated in various acts of Parliament. First, we have county governments that issue drawing approvals on the architectural, structural and civil engineering plans.
The National Environment Management Authority (Nema) approval certificate, by norm, is issued after the county drawing approval. This is replicated when Water Resource Management Authority (WRMA) is involved for those proposed developments around water catchment areas.
The National Construction Authority (NCA) approval comes after tendering and contractor selected. In addition, there are those developments along flight paths that require Kenya Civil Aviation approval before commencement of construction work.
The law has not only mandated these authorities to issue approvals but also carry out regular inspections to ensure compliance to the set standards. Why then would anyone be punished for receiving construction approval green-light from government authorities mandated to do so by our laws?
Universally, there is no document that should have unquestionable integrity than one issued by the government. In fact, in most advanced countries, the signature of a government official on any document indeed ceases any debate as to its legality. What is this miasma then that we find ourselves in where a government questions the legality of its own documents and punishes the applicant unheard? Shouldn't the demolitions have begun at these approval authority offices?
Last month, I wrote about why the constructionregulatory institutions are failing Kenyans; I feel vindicated today. The institutions we have delegated powers to oversee the construction sector have indeed deliberately failed us. From building collapses to approval of developments without plan to registered unscrupulous contractors still in our midst and now approved riparian developments.
We must act – and sooner. The government should proceed, with caution, on demolishing buildings. All those whose buildings have been marked for demolitionsshould be accorded a hearing. In my eight years of project management practice, I have never come across a fake county, Nema or even Warma approval construction certificates.
If the construction industry is to attract investors' confidence, the sanctity of approvals issued by government authorities must remain inherent. Anything to the contrary will damage an industry that is in a genuine progress attempt amidst the umpteen challenges.
As a long-term riparian encroachment solution, we must amend the Survey Act cap 299 to clearly define the riparian reserve. Currently, the Act states that when surveying any land fronting any water body, a strip of land to be known as riparian reserve will be surveyed and reserved for government purposes as prescribed. This provision does not set out the limit of riparian area.
Surveying of land is critical as it defines the boundary of any piece, but that the surveying process itself fails to provide the limit of riparian area, this simply opens up the riparian resource to misuse and abuse.
The Ministry of Lands should enact relevant regulations to provide that allocation of land where the riparian area is involved will not include the riparian zone as forming part of the title. This will mean that the riparian reserve remains solely for government use unlike now.
We find ourselves in this quagmire because some people we have did not do their job. To demonstrate the seriousness of this riparian fight, the government must begin at the door of these agencies that slept on the job. It is not late to begin afresh, with new integral Kenyans at the helm of these offices. Demolitions must begin with these offices.
- The writer is a project manager and chairman of Association of Construction Managers of Kenya