Kenya's water shortage a silent crisis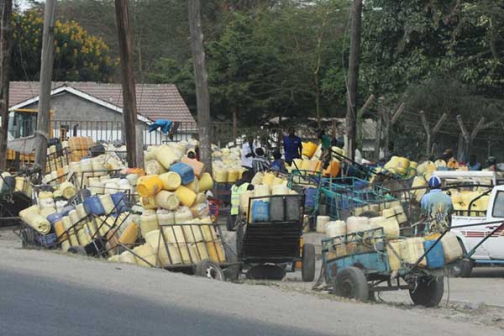 A 21st century Kenya should never be thirsty for water. To create tangible wealth, we must eradicate thirst in our homes and farms as a matter of urgency. It is shocking that more than 17 million Kenyans, half of the population, lack access to safe drinking water. Among these Kenyans are residents of Coke Soda Village of Mutha Ward in Kitui County. They buy water at Sh200 for a 20-litre container. Water may not be as expensive in other rural areas but its inaccessibility is just as dire.
Thousands of residents in Nairobi's informal settlement may not walk for long distances in search of water but just like the Coke Soda residents, they pay similarly steep prices for water. A recent research by University of Nairobi, Strathmore University, Akiba Mashinani Trust and Katiba Institute revealed that 'a family in the slum pays for water at 172 per cent more compared with a family living in a formal estate.'
Although paying exorbitant prices for water is a preserve of urban slums and numerous rural pockets, freshwater availability is a national crisis. In 1963 when we attained independence, the per capita water availability was 2,399 cubic metres per year. This meant there was almost 2.4 million liters of water available for every Kenyan per year. In 2010, the available water per person was 650,000 litres. Four years later in 2014, the available water had shrunk to 461,000 litres per person. It is estimated that in 2025, our population will strain water sources so much that only 235,000 liters of freshwater per person will be available.
Meanwhile, Italy's current per capita freshwater availability is 3 million litres, more than Kenya had at independence. Jamaica's is even more at almost 4 million litres while Tanzania has 1.6 million litres available. Ireland has 10.6 million litres available while the United States with its much larger population and much more per capita water consumption, has 8.8 million litres.
These figures should help us appreciate that Kenya's 461,000 litres is a silent crisis that may erupt in the coming years. Water is like peace – once it goes lacking in a given area, everyone eventually feels the pinch.
Despite these bleak figures, if we now act strategically, we can reverse the trend and gradually increase the freshwater availability hence our 'green money'. We can do this through a mix of legislative, household and private sector interventions. They include widespread rainwater harvesting, large-scale wastewater recycling, extensive water tower conservation, regular tree planting, drastic reduction in river pollution and radical reduction of water wastage among middle and upper class Kenyans.
Finally, 80 per cent of Kenya is arid and semi-arid. We need a marshall plan and corresponding budget to enhance water availability in this region otherwise it will keep having a massive adverse effect on the country's overall freshwater availability. Think green, act green!
Ruto has misread signs of the times in Rift backyard
I remember a while ago, Danson Mungatana, former Garsen MP, had taken to attacking Raila Odinga, a more senior and seasoned politician. In his sharp and dismissive response, Raila said when a dog barks at you, you go for the owner.