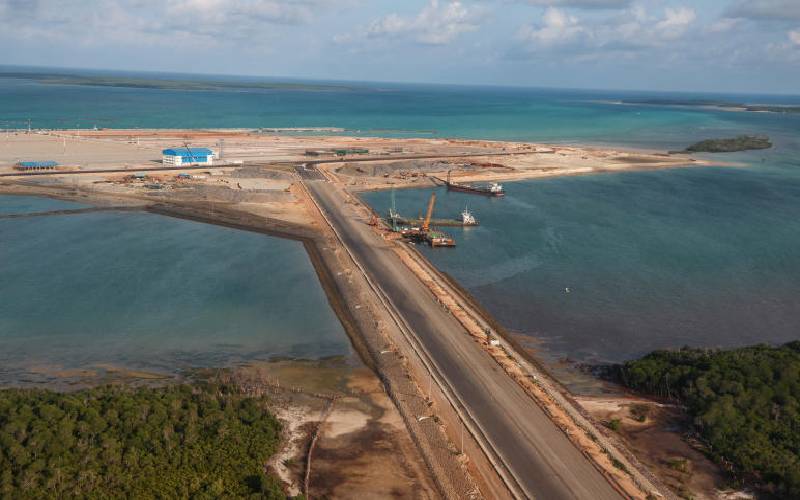 Officials from the Djibouti Port have praised the Lamu Port, saying it has some of the longest quaysides in Africa. Mr Abdilahi Adawah Sigad, the Chief Executive Officer of Societe de Gestion du Terminal a' Conteneurs de Doraleh commended the progress of the port and its berths.
He said the port's quay length of 1,200m, which guarantees bigger vessels to dock, was a game changer.
The quay at Doreh Port terminal in Djibouti is 1,050m long, with a depth of 18m and has a capacity to handle 1.25 million of 20ft Equivalent Units.
The Djibouti delegation on a fact-finding mission after attending the recent high-level 26th Intermodal Africa 2022 Exhibition and Conference in Mombasa, said they wanted mutual relations with the management of the Port of Lamu.
"We are keen on exchanging ideas because of the similarities between the two terminals," he said.
He said though viewed as competitors in the region, there was a lot the two ports could learn from each other to help address dynamics in maritime challenges and jointly meet the demands of the market.
He said since the Lamu Port will also be used as a livestock export facility, there was a lot that Kenya Ports Authority can learn from the Dolareh terminal, which has a livestock terminal inaugurated in 2021 with a capacity to handle 2.5 millions live animals per year, including resting areas and quarantine services for livestock before being exported.
The delegation toured the Lamu Port with KPA Lamu Jetty Superintendent Mr Abdishukri Osman.
The Lamu port has set aside 20ha within the facility for the establishment of a livestock marshalling yard to support the national government's initiative to develop a livestock export zone in Baragoni and promote export.
Mr Osman said the new Port of Lamu had since last year in May handled 12 vessels. "KPA is committed to fully operationalise the Port by June 2022," he said.
Kenya and Djibouti are targeting markets in Ethiopia with a bigger population and a growing economy.
The Doraleh terminal is connected to Western Ethiopia through the Addis-Ababa-Djibouti railway line, while Kenya is spearheading completion of Lamu Port South Sudan and Ethiopia Transport Corridor that will provide connectivity to Southern Ethiopia's Hawasa Industrial region.
The Isiolo-Moyale highway is in place. The state has committed to complete the construction of the Lamu-Garisaa-Isiolo road.
The Lamu port is intended to boost Kenya's status as a transport and logistics hub for East Africa and the Horn of Africa region.