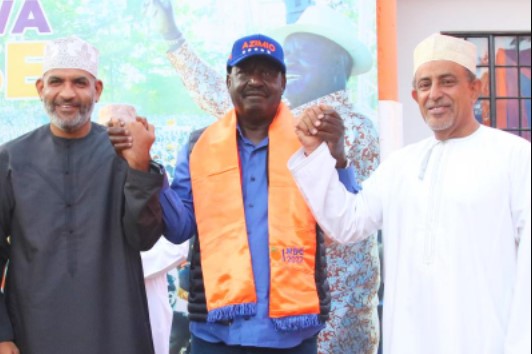 Mvita Member of Parliament Abdulswamad Shariff Nassir will run for the Mombasa Governor seat on an Orange Democratic Movement (ODM) ticket.
Nassir will be unrivaled for the party's ticket, after businessman Suleiman Shahbal stepped down in his favour, in a deal brokered by ODM chief Raila Odinga and Mombasa Governor Hassan Joho.
Mohamed Faki will contest for the Senate seat again on an ODM ticket.
Joho noted that both Nassir and Shahbal are worthy and solid contenders, adding that what's now left is to hit the ground running.
"I don't take for granted the magnanimity expressed by Shahbal. He is a strong and solid candidate but for purposes of unity he decided to support Nassir," the County chief said.
Although being Mombasa Governor had been a dream of his for 10 years, businessman Shahbal said the needs of Mombasa residents come before his own.
"I have been aspiring to be governor for 10 years. But it is not important that I lead those changes...what's important is those changes need to happen," he said, promising to work hand in hand with Nassir.
The Mvita MP on his part said he would include Shahbal in his campaign and merge their manifestos.
"He is a worthy competitor and we all wanted a good Mombasa. I know Baba you said you'll take him to national politics but we will need him to work in Mombasa," the lawmaker stated.
Nassir and Shahbal were battling for the ODM ticket in the Mombasa governor race.