Lamu Port drives growth of real estate deals in once sleepy town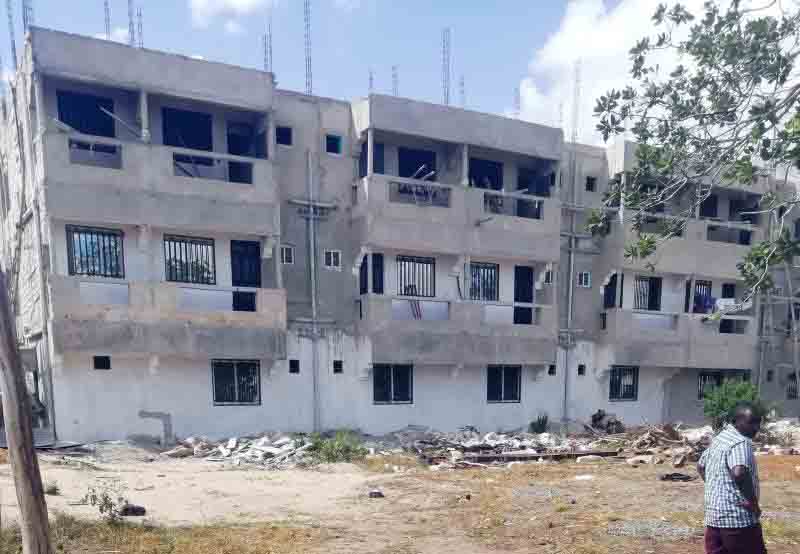 At a time when real estate developers could not even think of investing in Lamu, one man defied the odds and took a leap of faith.
The actions of Julius Gachihi can only be described as a smart gamble. Mid-last year, he decided to invest in the real estate in Lamu's Hindi area, amid fears of insecurity and as the effects of Covid-19 were biting.
It is the period, real estate market analysts had predicted that Covid-19 would lead to a decline in the income of many families thus lower home prices and market rents.
Lamu County, especially near the new seaport, had good prospects but the property market analysts said terror-related insecurity had also affected the sector.
Even the brave and daring ones like Gachihi decided to start small. He put up bedsitters in Hindi trading centre hoping to get clients from port employees.
"In 2014, I threw caution to the winds ad bought some land in Hindi when no one was interested in the then sleepy trading centre. Then, there were issues of Al Shabaab attacks," he said.
He adds: "My gamble has paid off. Demand for rental houses in Hindi has quadrupled after State agencies deployed workers to the Lamu Port."
Gachihi says the housing situation is so dire that there are instances where tenants pay deposits for houses that are not yet complete. The once sleepy villages of Mokowe and Hindi in Lamu are witnessing a boom in residential and commercial constructions. According to Lamu's Chamber of Commerce and Industry official, Ikhwan Omar, Toyota Kenya was the first to put up a car yard along the Lamu Port link and access road.
Mombasa's Premier Hospital has announced plans to set up a modern hospital facility in the area to cater for the shipping community and locals.
Lamu County Commissioner, Irungu Macharia said the boom in real estate development is as a result of improved security.
"The port and road network upgrade have led to elevation of the status of Lamu itself thus attracting lots of interest from investors from across the nation," he said.
In 2014 an acre of land in Hindi was about Sh600,000 but today it fetches an average of Sh4 million, according to Tops Investment Holdings manager, Fabienne Mugo.
And in Mokowe, the new County Government Administrative Headquarters, an acre of land some years back was Sh250,000 and today is at least Sh2.4 million, depending on how close it is to the newly tarmacked township roads.
The Kenya Urban Roads Authority has also invested Sh1 billion to develop a 15-kilometre township road linked to the Lamu-Witu-Garsen road.
"Nobody could have dreamt of investing in real estate within Hindi and Mokowe due to insecurity but this has been dealt with and now, with the commissioning of Lamu Port, tarmacking of the Lamu-Witu-Garsen Road and the improved town infrastructure in terms of water supply and access to both National and County Government services, the possibilities seem endless," said Duncan Nyutu, another real estate developer.
Property Developer's dream
For Nyutu, Lamu is a realtor and property developer's dream, as rental properties are likely to fetch prices that rival those of Nairobi and Mombasa.
"We have investors looking for land to set up housing units and, build parking yards, petrol stations and garages," said Nyutu.
Landsworthy Real Estate Agent Chief Executive Officer, Salim Awadh, shared the same sentiments but warned that it was still too early to celebrate.
Awadh said the Lamu port has led to lots of growth of the real estate, especially with the infrastructure being put up, to supplement the Lamu Port environs.
He, however, notes that a lot of players within the sector are still trying to find their feet. He said a lot of land still being held by speculators who are hoping to cash-in in the future rather than develop commercial and housing properties at the moment.
"There is still a bit of reluctance by many land owners to develop property despite the obvious advantages that the Lamu Port project has presented," said Awadh.
Further, he says that banks are still reluctant to give out loans to property developers with empty parcels of land, hence the reason why the sector has yet to fully take off.
"There is also the issue of ensuring steady fresh water supply not only in Hindi and Mokowe, which is the county's administrative nerve centre," said Awadh.
"Land within the Hindi area is more costly than in Mokowe despite the town attractiveness as an Administrative Headquarter due to the water supply, whereby Hindi has access to fresh water boreholes managed by Hindi Water Users Association," Yunus Isa'khia, a Mokowe resident notes.
Lamu Water and Sewerage Company CEO, Paul Wainaina said the county government has fixed the water situation in Mokowe Township.
"We have fixed the water situation in Mokowe township, not only due to our existing customers but also because of the influx of people coming into Lamu because of the port project who will need fresh water supply in their houses," Wainaina states.
Plans are afoot by the Lamu Port-Southern Sudan Ethiopia Transport (LAPSSET) Authority to construct a Sh350 million desalination plant in Lamu's mainland area of Mokowe and Hindi by next year to enhance water supply in the county, according to authority's Managing Director Maina Kiondo.
Construction of the desalination plant in Lamu is expected to supply at least 3,000 cubic metres of water daily.
Kiondo further states that the authority is currently carrying out a study of where it will put up a plant that will be used to reclaim sea water to make it fit for drinking.
According to the LAPSSET Director, the desalination plant would in reality aid add value to Lamu's real estate sector, especially in the neighbouring port areas of Mokowe and Hindi, already identified as viable residential and commercial options being the ones that will benefit from the project.
MySpace Properties CEO, Mr Mwenda Thuranira, said that a vibrant real estate sector such as the one coming up in Mokowe and Hindi area is key to demystifying Lamu's profile as a red zone area rather than its potential as a viable investment destination.
"The turnaround time when it comes to conducting land searches, land transfers and land management issues at the Lamu's land registry, are efficient and only take a week on average," Farida Hassan, a property developer based in Mokowe states.
According to Lamu Municipality Chief Officer, Alex Jimbi, a lot of work still needs to be done to ensure that investors adhere to the Lamu County Spatial Plan to ensure that there is no infrastructure collapse in future due to overpopulation of a certain area caused by mushrooming of unplanned informal settlements.
"We need to acknowledge that the real estate sectors fortunes are directly tied to how the National and County Government manage the Lamu County Spatial Plan that was developed in 2016 with an aim of ensuring that the county's resources such as fresh water supply, affordable housing and proper drainage are not stretched," Jimbi said.