Scanty details on dramatic arrest in Likoni over suspected terror links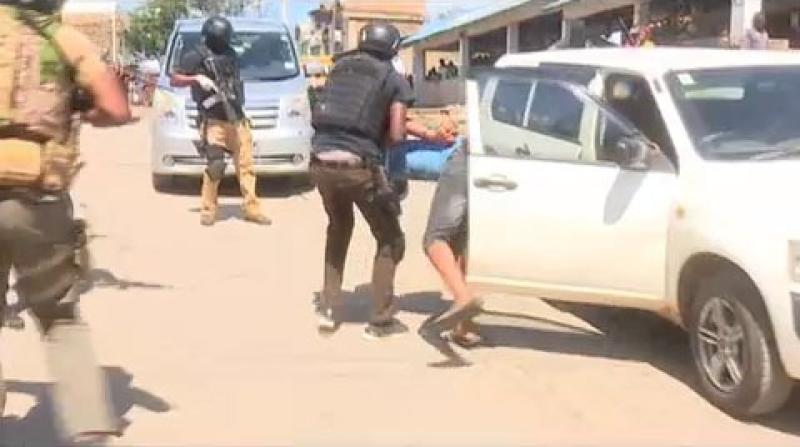 Two terror suspects arrested at Mombasa's Likoni ferry are being held at a military site at the Coast, a senior police officer said.
New information indicated that the operation was led by the Defence Military Intelligence (DMI) and the Anti-Terror Police Unit (ATPU).
Yesterday, top security officials at the Coast remained silent over Monday's dramatic arrest of the Caucasian men on suspicion of terror.
Coast Regional Police Commander Manase Musyoka said he was out of the office and was unable to divulge any information.
On Monday, the regional police chief had described the two as members of a "gang of criminals."
Officers pounced on the suspects on Likoni mainland just as they were about to enter the ferry to cross to the island. A woman who was with them, however, escaped.
The dramatic operation, which was captured on camera, has sparked a frenzy in social media, with Kenyans questioning the manner it was executed. Others said it was a drill.
Officials from the Office of the Director of Public Prosecutions (ODPP) in Mombasa said no application had been filed in court to allow the police to continue detaining the two suspects.
Security agents at the Coast have been on high alert following reports of a possible terror plan to coincide with the death of Sheikh Aboud Rogo. Before he was killed in Mombasa on August 27, 2012, the government had accused Rogo of funding and recruiting fighters for the Somalia terror group, Al-Shabaab.
Mr Abdulhakim Salim Sagar, a cousin of Rogo's widow Hanniya Sagar, was arrested on Wednesday at Mlango wa Papa in Old Town.
In a clip recorded by a witness, Salim, 40, was dragged into a waiting double cabin pick-up and driven away. Police boss Musyoka said he was being interrogated.
"He was arrested by people believed to be police officers after Maghrib prayers," said Francis Auma, a response officer at human rights group Muhuri.
Yesterday, Salim's lawyer cast doubts on reports that his client knew the two men seized on Monday.
"My client has not been arraigned in court. Today, I'll file a case in the High Court to compel the police to produce him. I've no instruction about the other two men," said lawyer Mbugua Mureithi.
Salim was arrested in 2018 and charged with possessing terrorist materials. His case is set for hearing on December 9.
On August 5, an Egyptian, two Somali nationals and a Kenyan were arrested in Mazeras, Kilifi, on their way to Mombasa. Police linked them to a terror group with a connection to Somalia, Egypt, Uganda and Kenya.