Top leaders battle for the soul of the Coast ahead of 2022 contest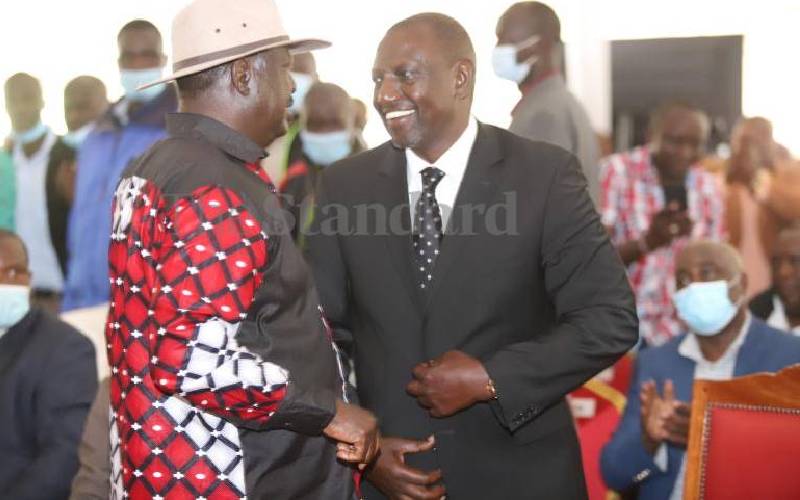 In the last three weeks, four top political leaders have held series of meetings and launched development projects at the Coast in what is shaping up as a scramble for the region's political support.
On Tuesday, President Uhuru Kenyatta was in the region, a day after his deputy William Ruto concluded a three-day tour that took him to Kwale, Mombasa and Kilifi counties.
ODM leader Raila Odinga arrived on Sunday and is currently holding meetings with supporters at the grassroots. He has toured Kwale, Kilifi, Tana River and Mombasa counties.
ANC leader Musalia Mudavadi will return to the Coast next week, according to Kakamega Senator Cleophas Malala.
The DP's United Democratic Alliance (UDA), ANC and Independence party KANU have all launched membership recruitment drives in the Coast. ODM is expected to launch its drive in coming days.
Yesterday, Mombasa Governor Hassan Joho claimed the Coast remains ODM's stronghold despite other party leaders' increased forays to the region. He said the region's support for Raila was historical.
"Let them continue touring the region. But the Coast has a historical bond with Raila because has stood with us since the 1990s during the era of the Islamic Party of Kenya (IPK)," said Joho.
Ruto and Raila spent days in intensive tours in Kwale, Mombasa and Kilifi with the latter extending his drive further to Tana River County.
The DP wound up his tours on Monday by donating 150 goats for Eid Ul Adha in Mombasa and later met 1,000 women from 35 wards of Kilifi at Mtwapa.
On Sunday, the DP was in Lungalunga in Kwale to fundraise for the local chapter of the Council of Imams and Preachers of Kenya (CIPK). This after a service at St Patrick Catholic in Kilifi.
Ruto fundraiser
A day before, on Saturday, the DP fundraised for traders whose merchandise was destroyed in a fire at Kongowea Market in Mombasa before touring projects financed through the Nyali CDF.
Raila who arrived in the region on Sunday addressed a gathering of Muslims in Mvita yesterday as he drummed support for the Building Bridges Initiative (BBI).
Ruto advanced his bottom-up economic approach while dismissing the push by Raila's side for constitutional reforms.
On Tuesday, Raila was in Dabaso in Kilifi North for the burial of Chief Administrative Secretary Gideon Mung'aro's relative. On Monday, he inspected projects in Tana River County.
Mung'aro and Mvita MP Abdulswamad Nassir have emerged as Raila's new point men at the Coast. Nassir has hosted Raila three times in Mombasa in two weeks.
"Many things are lined up and he will be a regular guest in Mvita to launch projects. He is my party leader and I will do everything to make sure his support is intact," said Nassir yesterday.
He claimed Ruto was hoodwinking the region by running away from the failures of his government and at the same time trying to claim credit where Jubilee has succeeded.
"When it comes to good things, they say they did as a government but on the wrongs, they say they are not in government," Nassir said.
Uhuru is expected to inspect and commission some projects in the region as he seeks to cement his legacy. Yesterday he was expected in Lamu.
The scramble for the Coast has intensified following collapse of talks between fringe political parties in the region to establish a coalition.
University don Morris Mbondenyi said the Coast is perceived as a swing vote block because it does not have a strong presidential aspirant or political party at the moment.
"Coast stands out as a traditional swing vote region. Top political leaders will always troop to this region because they seek to fill their baskets," he said.
He added: "Raila is fighting to consolidate his support while Ruto is trying to penetrate the voting bloc. President Uhuru is here to cement his legacy."
Former Cabinet Minister and Kaloni MP Morris Dzoro said the Coast was "easy to invade" due to widespread poverty. "Poverty has made us rely much on tycoons from the Arab countries or upcountry because local leaders have been unable to bankroll their own political parties and coalitions," he said.
University lecturer Hassan Mwakimako noted that the Coast region has not taken a political stand yet and the ODM territory has been invaded particularly by Dr Ruto, occasioning Raila's fight back.
He also noted that Raila and Ruto have rushed to seize the opportunity and put in place new leaders now that key politicians like Mombasa Governor Hassan Joho, Kwale's Salim Mvurya and Kilifi's Amason Kingi exit office next year.
"Key leaders in this region are about to exit and this has provided an opportunity to get a new crop of leaders," he explained.
USPK chairman Matano Chengo said Coast-based political parties were putting in place a coalition of entities to end the so-called big parties' dominance of the region.
"Residents are disillusioned because the DP came to the Coast with Uhuru in 2013 and 2017 and gave numerous pledges. The DP is now telling us a different narrative," he said.
Malindi MP Aisha Jumwa said Coast politics has changed to be about small people and not the tycoons and that Raila has been out-staged by Ruto.
"For 15 years we have supported one mzee (Raila) but he has not returned favour at all to Coast people. He thinks Coast cannot do anything without him," Jumwa argued.
Nyali MP Mohamed Ali claimed UDA will deliver a government for the people, including Coast residents.