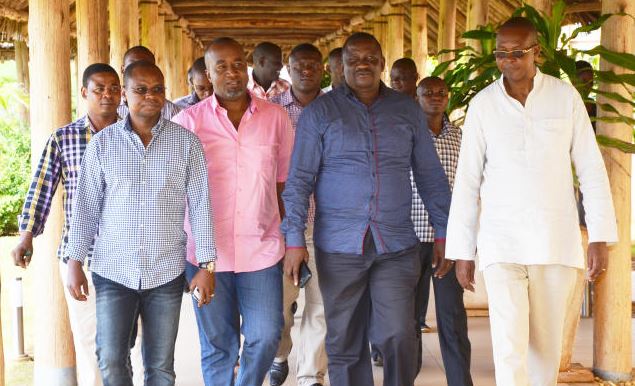 Political analysts and politicians are closely monitoring the moves by governors Hassan Joho (Mombasa), Salim Mvurya (Kwale) and Kilifi's Amason Kingi as their final terms in office draw to an end.
The county chiefs are expected to craft their succession plans as well as shape the region's politics with calls for the formation of a Coast-centric party to tap the 2.8 million votes gaining momentum.
Mvurya appears to have settled on his deputy, Fatuma Achani, who has stood by him since their election in 2013 on an ODM ticket.
The duo seems to have good chemistry, which may explain why, after walking out of the Raila Odinga-led party in 2016, they still won a second term on a Jubilee party ticket in 2017.
Read More
Mvurya has publicly endorsed Achani to succeed him and continues to raise her profile at every opportunity.
"My deputy headed the strategy team that enabled us to win this by-election," the governor said last month during the homecoming party for Msambweni MP Feisal Bader.
Mvurya is an ally of Deputy President William Ruto. In the DP's camp, Achani will be challenged by Lungalunga MP Khatib Mwashetani and Athman Chipera.
There are also reports that Agriculture Research Principal Secretary Hamadi Boga, Kenya Ports Authority Manager Lung'anzi Chai, Kwale County Assembly Speaker Sammy Ruwa and former Cabinet minister Chirau Ali Mwakwere are eyeing the Kwale gubernatorial seat.
Joho and Kingi have not identified their preferred heirs after they dropped their first deputies before the 2017 General Election. Joho replaced Hazel Katana with William Kingi, while Kingi dropped Kenneth Kamto for Gideon Saburi.
Cards on the table
With William Kingi yet to put his cards on the table, Mvita MP Abdulswamad Shariff Nassir and politician Suleiman Shahbal look to be preparing to square it off for Mombasa's top seat.
Former Mombasa Senator Hassan Omar, a Ruto ally, is also said to be in the running for the post.
In Kilifi, Malindi MP Aisha Jumwa has declared her intention to succeed Kingi. Others being mentioned are Lands Chief Administrative Secretary Gideon Mung'aro and Kilifi North MP Owen Baya.
Politician John Kiminza said factors that will come into play in the Mombasa gubernatorial race include which candidate will be endorsed by Joho, how much money they have, the political party, and the upcountry vote.
"The general mood is against a candidate who appears to be fronted by an outgoing leader.
"Since any regime has its own challenges and shortcomings, the current governor's support for a gubernatorial candidate will make him or her carry the sins of the outgoing regime. This is not good in vote-hunting," Kiminza said.
He added: "The candidate will also not appear to be independent, and it will paint a picture of the outgoing governor wanting to rule by proxy."
Kiminza argued that the Msambweni by-election outcome was not a verdict on ODM's popularity in the region, but rather an expression of anger by party supporters against a candidate who was not their choice.
Big factor
"The political party is another big factor. A good candidate will need a party that has good grassroots support," he said.
Lawyer Yusuf Abubakar said the governors will pick their heirs based on whom they think will ensure continuity based on their performance.
"In Kwale, the choice of the deputy governor is an indication that Mvurya is satisfied with her performance."
Mr Yusuf said that the Building Bridges Initiative (BBI) and 'hustler nation' movement associated with Ruto may also determine who become the next governors in the three counties.
"The proposed regional party will only become a factor if fronted by Joho, Kingi, Mvurya, Jumwa or Omar," he said, adding that formations fronted by ANC's Musalia Mudavadi, Wiper's Kalonzo Musyoka and Alfred Mutua's Maendeleo Chap Chap party may also count.
Hassan Mwakimako, a political analyst, said the governors were out to pick loyalists as their heirs "so as to continue projecting a positive image long after they leave office".
"Mvurya, who has already settled on his deputy, is trying to persuade the people to accept his choice but he forgets that the seat is not for inheritance. The people may have other plans," Prof Mwakimako said.
Kwale politician Omar Mbuli said the county chiefs are selecting people who are trustworthy. "They will make all efforts to replace themselves with people they can trust when they vacate office."
Kilifi politician Naomi Cidi said there was hope Joho, Kingi and Mvurya can come together to provide leadership for the proposed Coast-based party, as well as help negotiate with other national political formations to ensure residents are in the next government.
"With the leadership of these three governors, the Coast region can form pre-election or post-election coalitions," said Ms Cidi, adding that on the matter of heirs, residents should be given a chance to choose their next county chiefs.
University don Halim Shauri argued that the single biggest challenge in having a formidable Coast-based party was the lack of a 'vision bearer', noting that Joho, Kingi and Mvurya have failed to unite and seem to be reading from different scripts.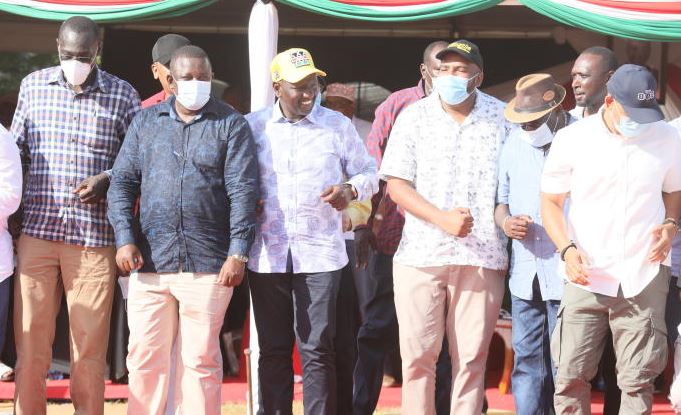 Coast economic bloc
Prof Shauri said the Coast would have launched a successful Jumuiya ya Kaunti za Pwani (JKP) economic bloc in 2015 had the governors been united.
"The three governors have big egos and mistrust amongst themselves. Coast is still in trouble and we have to sort out this problem first," he said.
Mwakimako also said the second-term governors were more concerned about their respective political futures and it would be difficult for them to come together to form a regional political party.
He agreed with Shauri's assertion that the governors should have first built the JKP to prove their unity, or even formed a political party during their first terms.
"The idea of having a Coast-based political party has been popular among the masses but the leaders want to lead such an entity for their personal gain without a vision for it.
"If they were serious, they would have formed this party a long time ago," he said.
On January 9, Kingi hinted at the unveiling of a Coast-based party by June this year, raising speculation whether he is abandoning ODM.
It is still not clear whether Kingi will take the party to Raila or Ruto considering that Jumwa and Baya had talked of a similar plan.
The two, who are in Ruto's camp, had earlier prodded Mvurya to take up the leadership of the proposed entity ahead of the General Election.
Baya has since claimed there is a plot kill the political party idea even before the outfit is unveiled.