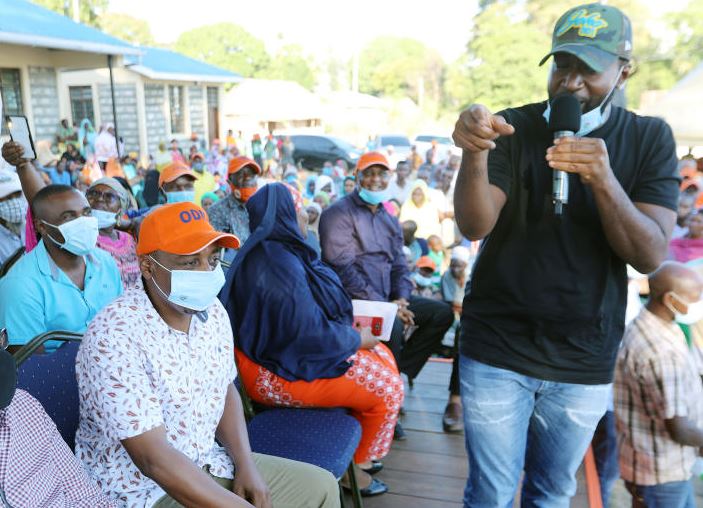 As the Msambweni by-election nears, it has emerged that the campaigns are not just about the parliamentary seat but multifaceted fight between different forces.
For the last three weeks, Mombasa Governor Hassan Ali Joho has pitched camp in Kwale to campaign for Orange Democratic Movement (ODM) candidate Omar Boga.
In the campaigns, Joho has said ODM's win will be a lesson to people in Nairobi who want to remote-control Coast politics, in an apparent reference to Deputy President William Ruto.
On the other hand, however, the traditional supremacy battle between Mombasa politicians and their counterpart from the Mijikenda-dominated areas are also playing out in the campaigns.
Read More
Kwale Governor Salim Mvurya, who supports the independent candidate Feisal Bader, has also lashed out at Joho, accusing him of treating Kwale as a sub-county of Mombasa.
Two rivals
Since 2016 when he defected from ODM, Mvurya has not been seeing eye-to-eye with Joho whom he accuses of not respecting other governors. Joho has denied the claim.
Meanwhile, Ruto allies led by former senators Hassan Omar and Johnston Muthama are also campaigning for Bader, claiming he represents the 'hustler' nation.
The BBI politics is also at play.
With seven days to the end of the official campaign period, vote-hunting has been intensified as eight of the nine candidates cleared for the December 15 parliamentary by-election do their final bidding.
Candidates have focused their campaigns on vote-rich areas such as Ukunda and Gombato/Bongwe ward with combined votes of 39,038. The two wards cover Kwale county's main commercial town of Ukunda, with a sizeable population of both locals and people from other areas.
Eight candidates are scrambling for the seat that fell vacant following the death of Suleiman Dori, an ODM MP, in March this year.
One independent candidate has since quit the race.
Allies of ODM leader Raila Odinga and those of Ruto are campaigning hard for Boga and Bader respectively, with the contest seen to have a bearing on the 2022 General Election.
On Friday, Joho campaigned in Mkwakwani, Magutu and Mvindeni within Ukunda. On Monday, Mvurya held a meeting in the same area at the Ukunda showground.
Joho said Msambweni politics will not be remote-controlled by "someone from somewhere", in reference to Ruto, whose allies – Omar and Muthama – are leading campaigns for Bader. 
Kwale Senator Issa Boy said Joho was free to campaign in Msambweni and anywhere else in the country as the ODM deputy leader and asked Mvurya to respect his position.
In Boga's campaign team on Friday were nominated Senator Agnes Zani and MCAs led by James Dawa, the County Assembly Leader of Majority.
While on the campaign trail, Mvurya accused Joho of crossing over to Kwale to campaign for Boga.
"Let no one come and tell you that there is a government candidate. The government is headed by Uhuru Kenyatta who was elected on a Jubilee ticket like me.
''I am here to campaign for Feisal and I am from Jubilee party. Uhuru has no candidate and the government has no candidate," Mvurya said.
At the Ukunda showground three days ago, Mvurya urged politicians to avoid whipping up emotions.
"Kwale and its people will remain as brothers and sisters after the election on December 15. There is no need to create enmity among the people," he said.
Raila is expected to tour Msambweni and campaign for Boga today.
The other candidates are Sheikh Abdurahman Mahmoud of Kalonzo Musyoka's Wiper Democratic Movement, former Msambweni MP Marere wa Mwachai of The National Vision Party, Dr Khamis Mwakaonje (United Green Movement), Ali Hassan Mwakulonda (Party of Economic Democracy) and independent candidates Charles Bilali and Mansour Kumaka.
Sharlet Akinyi (independent) from Ukunda Ward has since quit the race and joined Boga's campaign team.
The Independent Electoral and Boundaries Commission (IEBC) said preparation for the by-election was on course and clerks are being trained.
Returning officer Yusuf Mohamed Abubakar said the training of personnel at polling station level would be done on December 11 and 12.
"Campaigns have been going on smoothly. We have not received any complaints from anybody," Abubakar said, and denied knowing that Akinyi has quit the race.
Since the campaigns started on October 15, candidates have traversed the constituency in the hunt for 68,621 registered voters.
Ukunda Ward with 21,500 voters is home to Bader, who also lived in Kinondo Ward with his uncle Dori.
Kinondo, also home to independent candidate Bilali, has 11,014 voters while Ramisi Ward has 18,569 voters.
Mwakaonje, Sheikh Mahmoud and former Msambweni MP Wamwachai come from Ramisi Ward.
Boga hails from Gombato/Bongwe Ward that has 17,538 registered voters. He served as MCA for the ward until the 2017 General Election when he vied for the Msambweni seat against Dori.
Also from Gombato/Bongwe Ward are independent candidates Mansour Kumaka and Mwakulonda.
Local economy
Msambweni constituency is home to the beach tourist resorts, the multi-billion-shilling Base Titanium mining plant and Kwale International Sugar factory.
It is also an important agricultural and fishing zone in the county.
Political analyst Hassan Mwakimako said Msambweni campaigns have proved to be tough with both Raila and Ruto allies training their sights on 2022 elections.
Prof Mwakimako noted that the duel has served as training ground for the next General Election with parties fighting to increase their chances of winning in 2022.