Six set to testify in Jumwa theft case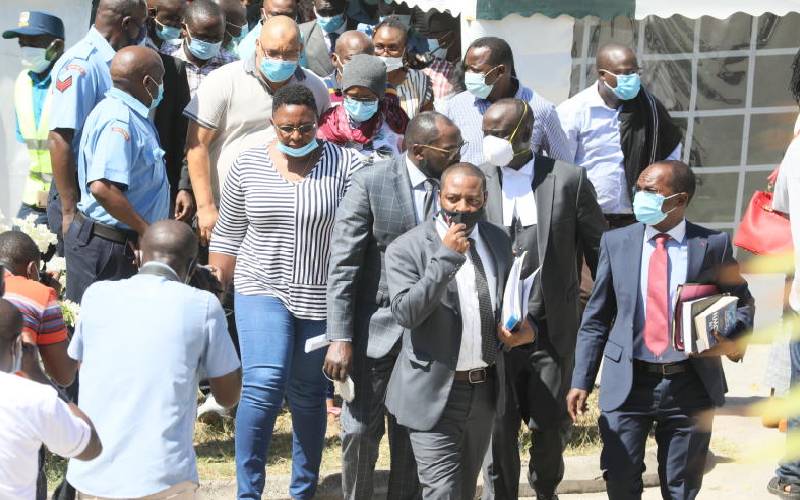 The State has lined more than six witnesses to prove its claim that Malindi MP Aisha Jumwa embezzled Sh20 million through proxies and a network of companies to buy an apartment in Nairobi.
The indictment against the MP, who was charged yesterday, claims she bought the house in instalments to conceal proceeds of crime stolen from the Malindi National Government-Constituency Development Fund NG-CDF.
The prosecution witnesses include Mbaika Kalungu, Joseph Kamango Hia, Chivatsi Dzombo Lewa, Elena Mapenzi Samini and police officer Mike Muia, according to the charge sheet.
Yesterday Jumwa denied five charges, three days after the arraignment of her alleged six co-conspirators who have been languishing at Port Police Station since Thursday.
Chanting supporters
Jumwa was accompanied to the Mombasa law courts by a battery of lawyers and chanting supporters.
"The accused will be released on a bond of Sh5 million with a similar surety or pay a cash bail of Sh2 million," said Chief Magistrate Edna Nyaloti.
The MP paid the bail and was freed.
Last Thursday, the DPP said the investigation leading to the MP's indictments was long and complex but had yielded adequate evidence to demonstrate that she and her alleged partners in crime established a criminal enterprise to steal public resources through a slew of firms and tried to clean proceeds of their crime.
According to the DPP, investigations had shown that Jumwa "concealed the said sums being proceeds of crime, through depositing an instalment towards the purchase of an apartment along Argwings Kodhek Road in Nairobi."
The DPP said that Abdalla, Onyango and other NG-CDF officials, Bernard Riba Kai, Sophia Saidi Charo, Margaret Faith Karume and Robert Katana Wanje conspired with the MP to steal Sh57,711,690 from the NG-CDF using a network of proxies and companies controlled by the legislator.
The DPP's indictment ordered the arrest of the MP and other suspects to be charged with conspiracy to commit a corruption offence, forgery and acquisition of proceeds of crime, money laundering and the crimes of uttering forged documents and conflicting of interest.
Also to be prosecuted are Multiserve Contractors Limited, Kaseru Construction Limited, Bizcot Limited and Gadu Stores Limited the firms that alleged co-conspirators used to siphon and launder the millions
Jumwa is accused alongside Wachu Omar Abdalla, Kennedy Otieno Onyango, Benard Riba Kai, Sophia Saidi Charo, Margaret Faith Kalume, Robert Katana Wanje and Multserve Contractors Limited both who are CDF officials
The six CDF officials denied all 10 charges facing them before Nyaloti.