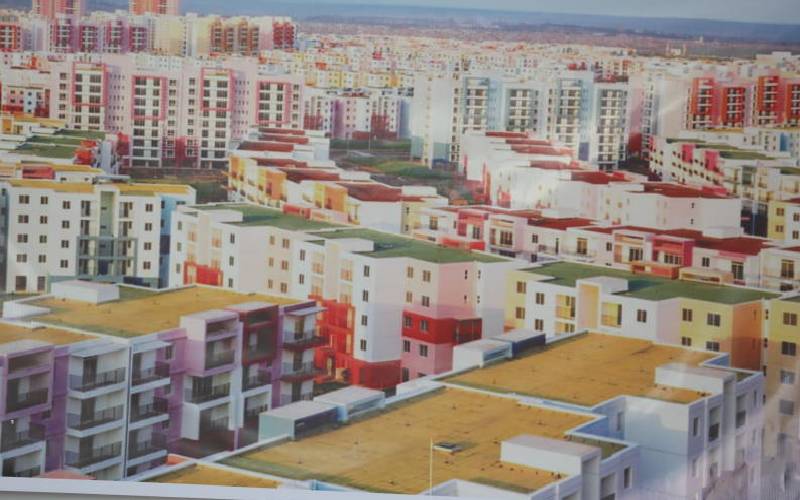 Mombasa residents will benefit from Sh6 billion affordable housing project by the county government and partners.
The county government and investors led by businessman Sueliman Shahbal plan to launch the construction of 1,900 housing units in Buxton estate in January.
Governor Hassan Joho and Mr Shahbal yesterday explained that the project was a social scheme and not a commercial venture, and warned those inciting tenants against the project to stop.
The project will have 600 one-bedroom units, 700 two-bedroom units and 600 three-bedroom units. It is considered a transformative project for the estate near Nyali bridge that currently has some 500 housing units.
Joho said families currently occupying the houses will be given first priority to buy the units through mortgage.
Addressing residents of Buxton estate yesterday, the governor Joho said the project will be completed in nine months.
He explained that the tenants will get Sh240,000 compensation and another Sh60,000 as deposit to buy the houses.
The governor told critics planning to move to court to embrace the project.
Joho said the county government's agenda was to transform the tenants to property owners.
"Nobody is going to stop this project. The county government is not in the business of making money from citizens. We have a responsibility to transform the lives of the people we lead. I will not allow anyone to derail this project. Let me assure critics that all the estates will undergo transformation," Joho said.
Mr Shahbal said success of the Buxton project would see investors launch similar projects in other housing estates.
He said two-bedroom apartment at Buxton estate will go for Sh3 million compared to Sh6.5 million in the neighbouring Tudor suburbs. One-bedroom unit will be sold at Sh1.8 million and three-bedroom unit will fetch Sh4.2 million.
He said they have organised mortgage for the project from Kenya Commercial Bank, Gulf Africa Bank, Housing Finance and Absa Bank. "Some people are trying to oppose the project without clear understanding of its impact on the lives of residents," he said.
The businessman said the project will have commercial stalls, a social hall, a youth centre to nurture talents, a nursery school, a madrasa and clinic.
Chairman of the Buxton Tenants Welfare Group Sheikh Khalifa Mohamed said some people were planning to move to court to stop the project. He said majority of residents have endorsed the plan.
"There are some people who have collected signatures in preparation to sue us over this project but we are ready for them. We have accepted this project and we are ready to defend it," he said.
The governor vowed to take on forces bent on stalling the project.
The project will be used to jump start a mega plan by the county to build 25,000 low-cost housing units under the vision 2035 blueprint. This will be a legacy project for Joho who is set to leave office in two years.
Other estates targeted for rebuilding are Changamwe, Likoni (Flats and Customs), Mzizima, Miritini Greenfields, Nyerere, Tom Mboya, Tudor and Khadija.