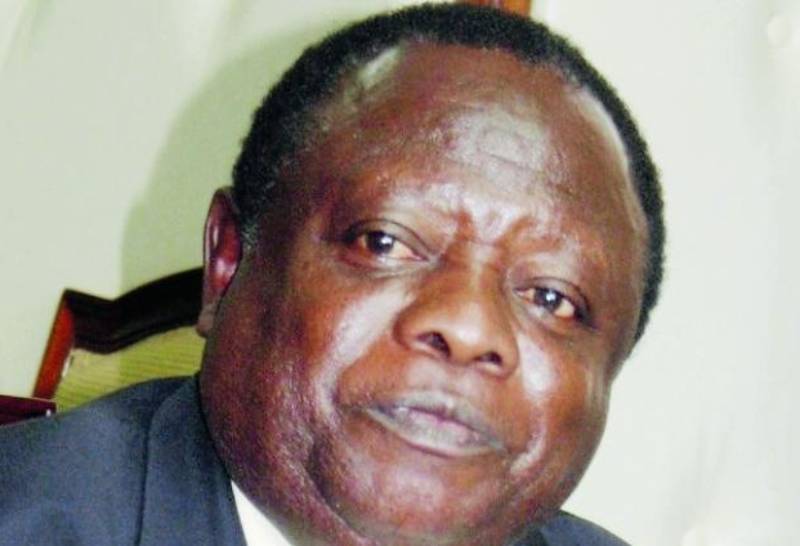 Ramadhan Seif Kajembe (pictured), one of Mombasa's most recognisable politicians, died last evening plunging his family into more grief. He was 76.
The former Changamwe died just two weeks after his wife died.
Kajembe and his family have almost become accustomed to grief since 2017 when his son Seif Kajembe died of kidney failure in India.
Two weeks ago, the former MP's wife Aziza died after a short illness. Kajembe had a difficult time attending her burial because he was too ill.
Read More
Aziza was buried by a government medical team at Kwa Shee Cemetery in Mikindani. Aziza died six months after Kajembe's other wife, Zaharia, had died. Kajembe, who served as Changamwe MP for three terms, died at Pandya Memorial Hospital where he had been for two weeks.
His son Mwidani Kajembe yesterday said the politician, who once served as the chairman of ODM in Mombasa, could be buried today.
"Allah has taken away Mzee Kajembe. It is a sad day not only for the family but the people of Changamwe as a whole. My father was in politics for over 30 years. We will put him to rest at the Kwa Shee Cemetery at Mikindani," he said.
President Uhuru Kenyatta described Kajembe as "a forthright politician, wise elder and accomplished trade unionist who served the country in different roles over the years with distinction".
ODM leader Raila Odinga termed him "a dedicated servant of the people of Changamwe whose rights he defended without fear".
National Assembly speaker Justin Muturi described the former MP as a peacemaker and a friendly politician who mediated whenever there were conflicts in parliament.
"I served with him in 8th and 9th parliament, he was the alternative dispute resolution person. He was a good grassroots mobiliser who took pride in his work as Changamwe's representative in parliament," said Muturi.
Kajembe served as assistant minister for Environment and Natural Resources and later as chairman of the board of Kenya Ferry Services until last year.
He beat the late Kennedy Kiliku in 1997 to become the Changamwe MP after serving for 15 years as councillor for Mikindani Ward.
Kajembe is among a generation of politicians that included Kiliku, former Mvita MP Said Hemed, Shariff Nassir, of Kisauni, and former Tourism minister Karisa Maitha, who dominated Coast politics for years.
He was a staunch supporter of then ruling party Kanu before he joined opposition politics in 2002.
In 2013, he vied for Senate seat on an ODM ticket but lost to Hassan Omar of Wiper.
When Aziza was being buried at the family graveyard at Kwa Shee in Jomvu, Mombasa, Kajembe was moved from the hospital to the funeral in oxygen cylinder and followed the burial from the vehicle.
Kajembe's son-in-law and Jomvu MP Badi Twalib said he received the news of his death with profound sadness.
"Hon Kajembe shall forever be remembered for championing democracy and reforms in Coast region and was one of the co-founders of ODM," he said.
"Kajembe mentored groups of young politicians and through his leadership, we have seen the exemplary, transformational development in Changamwe, and the birth of present Jomvu Constituency," Twalib said.
"He showed us what politics should be like in Mombasa and Kenya at large. He was gentle, smart and honourable in all his engagements."
Kilifi Governor Amason Kingi said he learned of Kajembe's passing with profound shock.
"We shall remember Kajembe as one of the legendary politicians from Coast who advocated changes that benefited the region when he served in the National Assembly. My heartfelt condolences to his family and the entire Changamwe Constituency which he served with dedication and dignity," said Kingi.
Mombasa County assembly majority leader, who is also a relative to Kajembe, Mr Hamisi Mwidani, termed his death a big blow to the people of Mombasa where he served as councillor and MP for decades.
"We shall miss him dearly. Some of us used to consult him on political matters," he said.
Mombasa Woman Rep Asha Hussein said Kajembe was a towering political figure in Mombasa County. "It is with utter shock that I have learnt the death of former Changamwe MP Kajembe," she said.
"Mzee Kajembe was a father figure to many and one of the veteran politicians from our county. He mentored many in politics," she said.
Former Tourism and Wildlife minister Morris Dzoro, who worked with Kajembe in Parliament, described him as a close friend.
"Death has robbed us of a dedicated politician who worked hard for his people," said Dr Dzoro.
Former secretary general of the Seafarers Union of Kenya Mr Matano Chengo said they will miss his charm and kindness at their hangout joints in Mombasa where they would discuss politics and region's development.