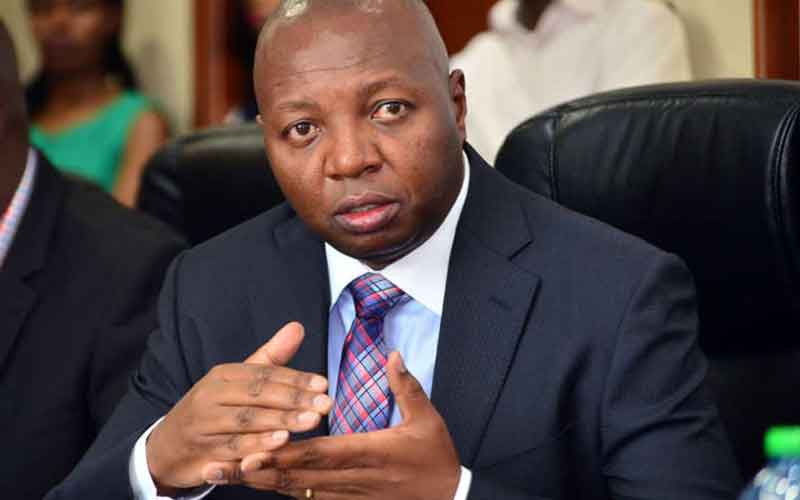 The recruitment of Kenya Ports Authority Managing Director has been thrown into disarray after the High Court in Mombasa stopped the process that started last month in the wake of the sudden resignation of the former MD Daniel Manduku (pictured).
The process spearheaded by the State is now suspended for a month during which the Government and other parties, including the group that petitioned the court will submit their arguments. Within the period the arguments will be made and a determination made.
Ex parte orders
Commission for Human Rights and Justice obtained ex parte orders from Justice James Rika of the Employment and Labour Relations Court. The State intends to oppose the petition by challenging the jurisdiction of the court over this matter.
The order to suspend recruitment was delivered on Tuesday evening dealing a blow to the Government's effort to inject confidence in one of Kenya's best performing parastatals at a time when the import and export sector has been plagued by Covid-19 infections at Mombasa port.
Justice James Rika in a ruling delivered through video conference ordered the recruitment be stopped to allow a petition filed by human rights activist be heard and determined. The judge gave orders following a petition by Commission for Human Rights and Justice Executive Julius Ogogo.
The petitioner, who is being represented by lawyer Brian Okoko also wants KPA board of directors to publish the names of the applicants and those listed for the interview in media houses with high circulation. The petitioner also expressed fears that the process might lock out applicants who are away from Mombasa because of the lockdown imposed by the Government.
Among those who had applied include General Manager smaller ports Sudi Mwasinago, Engineer Abdulahi Samata, former KPA General Manager Technical Services Engineer Atonga, former Procurement and Supplies Manager Yobes Oyaro, General Manager Infrastructure Development Vincent Sidai, Human Resource and Administration General Manager Daniel Ogutu, Addraya Dena General Manager Board and Legal Services among others.
However, the suspended KPA General Manager Finance Patrick Wambugu Nyoike who also applied has been knocked out following a graft charge he is facing in the anti-corruption court in Mombasa.
Ogogo wants the court to order KPA board of directors to publish names of the three selected applicants and their score cards. The names will then be forwarded to the Transport Minister for the appointment.
"The court should order the board to ensure there was public participation" said Ogogo.