Bishop charged with defiling disabled girl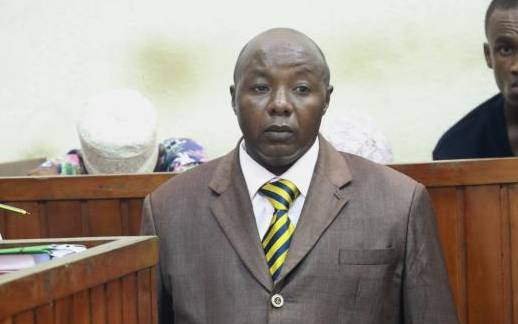 A Mombasa court heard that Bishop Paul Mwangi Kamau of Apostolic Congregation in Spirit Ministry based at Taru in Kwale County took advantage of the 13-year-old after she attended a service at his church.
The cleric is also said to be facing a similar charge at Mariakani law courts in Kwale County after he was accused of defiling a 12-year-old girl in April 2018.
Kamau, who appeared before Christine Ogweno, the Deputy Registrar at the Mombasa law courts, denied the charge and was remanded for 15 days pending the determination of whether he will be released on bail.
The bishop is said to have defiled the physically challenged girl on diverse dates between January and April last year at Taru.
It was Andrew Warui Muriuki, the investigating officer, who informed the Deputy Registrar that Kamau faced a similar charge in Mariakani.
Prosecutor Alice Mbae opposed efforts to have the cleric released on bail, saying he was a threat to victims and witnesses in the case.
"The case involves a minor and the interest of the minor comes first. We pray that he be denied bond until the minor, her mother and other civilians testify," said Ms Mbae.
According to an affidavit sworn by Muriuki, the pastor had made contact with witnesses and prospective witnesses in the defilement case he is facing in Mariakani, with a view of interfering with their testimonies.
Muriuki claimed that before Kamau was arraigned for the second defilement case, he solicited support from some of his faithful.
He also claimed the accused attempted to procure hit-men to kill or harm the victim and her father. "He indeed paid money via mobile money transfer in furtherance thereof," said the investigating officer.
"The matter of solicitation and procurement of hit-men to kill the minor's father Joseph Njenga was reported to the police and recorded under OB 88/18/10/2019. Investigations are not yet complete," said Muriuki.
Muriuki said Kamau had an influence on members of his church, who he was likely to sway or procure to commit crimes or pervert evidence or cause witnesses to suppress evidence or withhold it altogether, thereby perverting the course of justice.
He said police were also investigating whether Kamau intimidated witnesses by scaring them. He said some of the witnesses were young and could easily be dissuaded not to testify.
Other crimes
Muriuki said they were investigating Kamau for other crimes he was alleged to have committed. He said if released to continue his work as a bishop in Taru, where most of the offences were committed, the victim's course of justice might be compromised.
The official claimed the bishop had been seeking prayers from his congregation, alleging the charges against him had been trumped up.
In the first case, Kamau was accused that on diverse dates between April 1 and April 30, 2018, at Taru Township in Kinango, he intentionally defiled a child aged 12. He is also accused that on diverse dates, between December 28 and December 31, 2016, he touched the genitals of a minor.
He faces another charge where, on diverse dates between December 2016 and August 2019, at Taru, he touched breasts of the minor. The court will rule on his bail application on March 2.