Four terrorists killed in raid on US military base in Manda Bay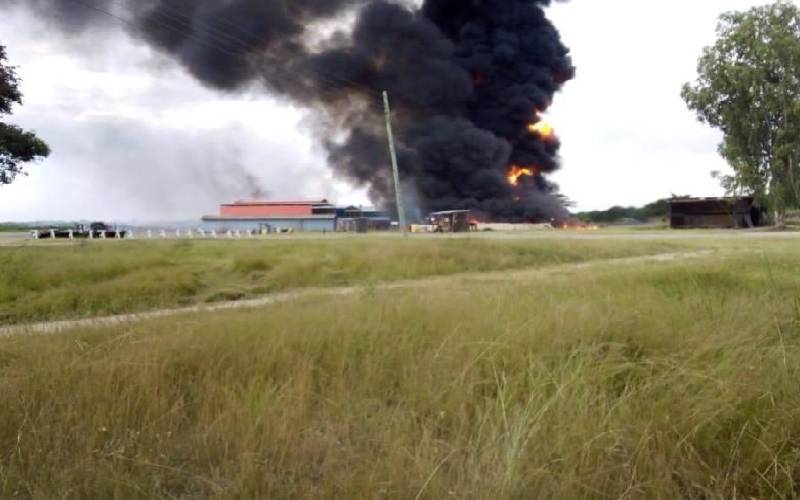 Four al-Shabaab terrorists were killed during a raid on US military personnel and facilities in Manda Bay, Lamu, early yesterday.
A confidential police report seen by The Standard confirmed attackers breached the base's defence and struck Manda Bay airstrip.
Kenyan authorities denied any fatalities among Kenyan and US soldiers.
The raid comes a week after the US embassy in Nairobi issued a warning that a terrorist attack was imminent in Kenya.
A statement from US Africa command acknowledged yesterday's raid and said the attackers had been repulsed.
Quoting US Africa command director of operations, US army Maj Gen William Gayler, the statement added: "Al Shabaab resorts to lies, coercion and exertion of force to bolster their reputation to create false headlines… It is important to counter Al Shabaab where they stand to prevent the spread of this cancer."
Audit underway
The statement added: "Initial reports reflect damage to infrastructure and equipment. Accountability of personnel is underway."
But sources claimed at least three soldiers were killed in a massive blast that targeted stationary Cessna planes, helicopters and armoured cars in the Manda Bay airstrip.
Following the attack, reports indicated that about 300 residents of Magogoni village overlooking Manda Bay had been ordered out. They lived half a kilometre from the military camp.
Mid yesterday, the Kenya Defence Forces (KDF) released a statement that the attackers were successfully repulsed.
"This morning at around 5.30am, an attempt was made to breach security at Manda Airstrip. The attempted breach was successfully repulsed. Four terrorists' bodies have so far been found. The airstrip is safe," said KDF spokesman Paul Njuguna in the statement.
Al-Shabaab claimed responsibility for the 4am raid.
"It is true the camp was attacked in the wee hours of Sunday at around 4am by unknown attackers. We have not established the number of casualties because we are yet to gain access. You know these people left behind the IEDs (improvised Explosive Devices) on the roads and it could be dangerous," said the Lamu County Commissioner Irungu Macharia early yesterday.
The terrorist group said the camp was targeted because it has been used by the American and Kenyan soldiers to attack Somalia.
There were reports that the militants rigged road accesses to the camp with IEDs and also knocked down telecommunication facilities before storming the camp. There are two military installations housing KDF and US forces at Magogoni in Manda Bay.
The attack, which appears to have been staged from a nearby forested area, targeted the American section of the base.
Reliable sources told The Standard that besides hosting several US Special Forces soldiers, the targeted section, which has an approximately 800-metre runway, is also used by Kenya's military.
Camp simba
The entire establishment is called Camp Simba and reports indicate the US section is also used to launch US military operations in Somalia as well as drone strikes against Al Shabaab in the Horn of Africa nation and Yemen.
Camp Simba in Manda was established in 2004 to serve as a US Forward Operating Location (FOL) centre for training exercises with Kenya naval special forces.
It is also a base for US Special Operations Force (SOF) operations in Somalia and US units there have run more than 16 training courses in anti-piracy, illegal fishing, human trafficking, explosive detonation, vessel boarding search and seizure.
It is located 100 kilometres south of Somalia and is secured by a perimeter fence to the West bordering the Boni Forest, Indian Ocean to the East and swampy area in other directions. But there is also a road on the western side and gate secured by barriers and blast walls that appear to have been breached yesterday.
Local residents in Hindi, which is 20 kilometres West of the camp, said they heard heavy gunfire from the direction of attack for hours, suggesting it took hours to put down the raid.
Residents of Mpeketoni, 15 kilometres away, also reported heavy weapons fire, probably from heavy weapons and helicopters for hours.
Later yesterday, reports emerged that five suspected attackers were arrested in Hindi town as they tried to buy civilian shoes and clothes. The militants were covered in dust when they were arrested.
Last Thursday, militants launched simultaneous attacks on three buses travelling to Lamu and killed three passengers, sparking fears of a return to militant attacks in the area.
Lamu has suffered a low level insurgency blamed on Jaysh Ayman, an offshoot of Al Shabaab acting from local forested areas and remote parts on the Kenya-Somalia border.