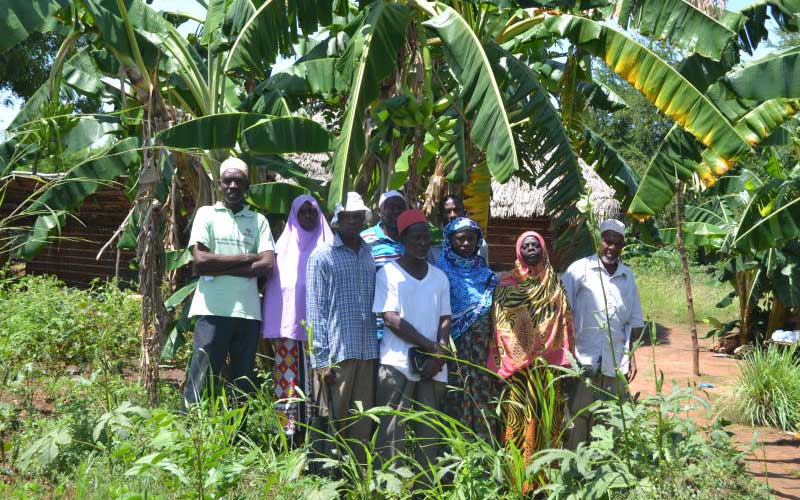 Ashura Shehe Boi, 41, has been struggling to take care of her seven siblings following the death of their mother in 2013 from a stroke she suffered when her house was razed and the family evicted from its ancestral land.
A few kilometres away from her home, there are graves of Juma Gomba and Juma Zaidi, who it is alleged were arrested, tortured and died for opposing eviction of their families.
At another home, Hassan Salim Dongo is a bitter man after losing his son, Feisal Hassan, who died from burns after their house was torched by goons during an eviction.
Kwale International Sugar Company (Kiscol) in Msambweni claims ownership of the land hence the evictions that happened under the watch of security officers.
Child burnt
Another child aged nine years is living with scars he sustained when he was burnt in their house during an eviction.
A medical examination report signed by a Mr Chebii, a medical officer, on October 7, 2010, shows that Hassan suffered burns on the chest, breasts, elbow and hip.
Evictions, arrests and threats have become the order of the day for residents of Mabatani, Nyumba Sita, Vidziani, Gonjora, Fahamuni and Kingwede within Msambweni in Kwale.
Over 4,000 families are locked in a bitter fight for 49,000 acres of land, LR. No. 5004/30/R.
According to land records, the land was at independence registered as a trust land belonging to the Digo community which has lived there since time immemorial.
But the troubles of the families, with an estimated population of 40,000, began in 2008 when armed security officers evicted them in the dead of the night.
"My mother Fatuma Shehe Boi suffered a stroke as a result of shock when she saw her house burnt. She had kept gold in our house but it was all lost. She was bedridden from 2008 and died in 2013, leaving me with the task of taking care of my seven siblings," Ashura said.
Suleiman Bakari Shauri, 65, chairman of the Vidziani Farmers Group which the affected families formed to fight for their rights, is a bitter man and blames politicians, senior government officials and owners of Kiscol for their woes.
"My parents who died recently aged 80 and 61 respectively were born and lived here all their lives. It beats reason that now we are being evicted from our ancestral land. Our problems began when former President Mwai Kibaki visited here in 2007 and promised to give the owner of Kiscol 15,000 acres of land for a sugarcane nucleus estate," Shauri said.
He said the 15,000 acres were located close to Ramisi Sugar Factory, but Kiscol had laid claim to the neighbouring 49,000 acres occupied by the 40,000 families.
According to a search done at the Department of the Registrar General in Nairobi under the Companies Act (Cap 486) on June 18, 2012, Kiscol is owned by Rajesh Pabari and Kaushik Pabari. Both are directors cum shareholders with 500,000 shares each.
Investigations further reveal that the two now control 80 per cent of the shareholding and have entered into partnership with leading Mauritian sugar producers, Omnicane, who have acquired 20 per cent of the total shareholding.
Kiscol replaced the old Ramisi Sugar Factory which closed in 1989.
"The old factory owner's lease of 99 years expired in 1986," Shauri said, explaining that the then government ordered that all the land that was initially under sugarcane be reverted to the community. "This was minus ours that we are fighting for now," Shauri said.
Said Omar, vice chairman of the group, said the community was living in fear and without hope of ever getting justice.
The troubles forced Shauri, Omar, Ashura and the other committee members of their group namely Kassim Ali Kama, Tsudzi Bamvua, Abdalla Reja, Bakari Ali Nguvu and Rama Mwinyi Madzumba to move to court.
The committee members, together with other 61 community members, have filed a petition at the High Court in Mombasa under the Constitutional and Judicial Review Division. The petition number 65 of 2011 was first heard at the Mombasa court on October 25, 2011. It was filed on behalf of the petitioners by lawyer Japheth Chidzipha.
The petitioners want Kiscol owners, servants, agents or employees permanently stopped from evicting them from their ancestral land.
"Chidzipha has already pulled out of the case. We are now being represented by lawyer Christine Kipsang. The case will again be heard on 17, this month. Though the case has dragged on now close for a decade, we are optimistic we will emerge winners one day," Shauri said.
County reassures
Lands and Environment Executive Saumu Beja Mahaja, who spoke after getting a go-ahead from Governor Salim Mvurya, said there was no way they could abandon the community.
"We are supporting the community in court and we are awaiting the ruling which we hope will give back the land to the rightful owners. We welcome investors but we are not ready to let our people lose lives, land, homes and their livelihood over profit," Mahaja said in her office in Kwale.
She said Mvurya had visited the troubled area to stop evictions and had vowed that his administration would ensure the land was returned to the locals.
But Kaushik, one of the directors of Kiscol, said his intention was not to take land from the community, but to develop it by planting sugarcane.
"This factory is meant to develop and improve the lives of the locals here. We are in court to determine ownership of the land," Kaushik said.
He said he had met with representatives of the community and offered to pay money to the affected families to relocate.
Shauri confirmed they had met Kaushik but had not agreed to his proposal.
"We have met him twice. The last meeting was at Coral Reef Hotel, Diani, but we rejected his proposal to pay us so that we move out of our land. We will die here on our ancestral land," Shauri said.
Kwale County Woman Representative Zulekha Juma said the land belonged to residents.
The team visited former Prime Minister Raila Odinga in Nairobi to seek assistance.
"We visited Raila on July 15, this year. He listened to us and took us to Interior Cabinet Secretary Fred Matiang'i. Our intention was to meet President Uhuru Kenyatta and request him to give us our land back but we missed the opportunity. Dr Matiang'i promised to investigate the matter," Shauri said.
[The writer is a Bertha Fellow]