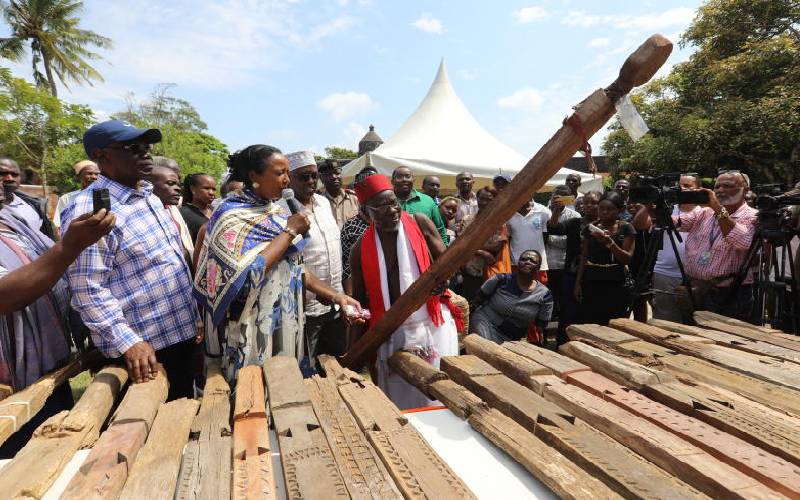 Mijikenda elders on Monday celebrated the return of 30 cultural artefacts stolen from the community more than 30 years ago.
The totems were returned from a US museum on July 3.
Welcoming their return, Kaya elders said the totems locally known as vigango represented the spirits of dead senior elders called Gohu and were back after "haunting" those who kept them in a foreign land.
They were returned by Denver Museum of Natural History in Colorado following a campaign by researchers to have them brought home because of their value to the Mijikenda community.
Cabinet Secretary for Sports, Culture and Arts Amina Mohamed handed back the artefacts to the Kaya elders and Kilifi County Government representatives in a colourful ceremony held at the Fort Jesus museum in Mombasa.
The families that owned the vigango are yet to be identified.
Dr Mohamed said 29 more cultural artefacts from the US had been lying at the Jomo Kenyatta International Airport since 2014 and promised to have them released to the elders.
She called on other institutions still keeping Kenya's cultural artefacts to hand them back.
"These are grave posts erected in honour of spiritual leaders and their value should not be converted to money. I am appealing to the global community to return more cultural artefacts to be put in the rightful use," she said.
A senior researcher at the National Museum of Kenya (NMK), Philip Jimbi, said an estimated 1,000 cultural artefacts were stolen and sold to museums and private art galleries in the US and Europe in the 1970s and 1980s.
He said a campaign to have them brought back was bearing fruit.
"Because vigango are spirits of Mijikenda ancestors, (they) have demanded to be brought home and that is what is happening now. We expect all the 2,000 pieces returned from the US and Europe in the coming years," said the museum official.
Malindi District Cultural Association secretary general Karisa Mwarandu said the totems were made from hardwood to represent dead members of the community who served as spiritual leaders and legislators.
"The Mijikenda community connects with the spirits of the dead Gohu during an installation ceremony known as sadaka ya vigango. We are relieved that they are being returned back home," he said.