Kenyatta's bed during Mau Mau insurgency unveiled in Taita Hills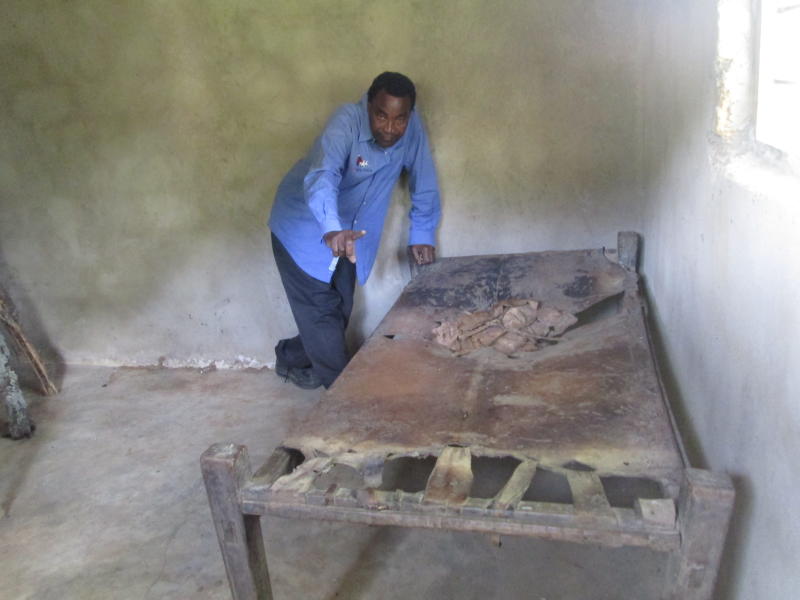 A bed used by Mzee Jomo Kenyatta and other freedom fighters in Mau Mau caves in Taita Hills has been preserved for posterity.
The bed made from Mwafighi (hard tree) and hide is still firm except for a hole at the rear edge. Its joints are firmed with leather straps, unlike the present beds which are joined with nails, nuts and bolts.
While in the caves, Kenyatta and his colleagues used dry banana leaves and goatskins to cover themselves.
Charles Mlekenyi, a son of one of the freedom fighters who hosted Kenyatta in Taita-Taveta County, said his father Zephaniah Mwakio, Kenyatta and other freedom fighters had to get used to the chilly weather in the picturesque Taita Hills forest.
"Independence did not come on a silver platter as many may think, and life was rough and harsh for freedom fighters," said Mr Mlekenyi, 70.
Other than the bed, there is also a sewing machine Kenyatta used to make clothes for himself and for other freedom fighters. Other artefacts include a steel comb, fly whisk and a small chair.
Mlekenyi, who interacted with the freedom fighters, said Kenyatta bought the comb in London.
"The late Kenyatta used to make his own clothes and for his comrades using the sewing machine. He used to get materials from African guards, who stole them.
"The first President of the Republic of Kenya used to sleep on the bed as he strategised for the independence. We have decided to preserve it for future generations to see and learn," said Mlekenyi, a father of five.
There are also three caves in the county's hinterland renamed 'Kenyatta'. The caves served as hideouts for the former President and other freedom fighters.
Besides Kenyatta, other freedom fighters believed to have stayed in the cave are Tom Joseph Mboya, Achieng' Oneko, Mbiyu Koinange, James Gichuru, Pio Gama Pinto, Dedan Kimathi, Kung'u Karumba, Bildad Kaggia, Paul Ngei, Masinde Muliro and Fred Kubai.
Former Tanzania President Julius Nyerere and his Uganda counterpart Milton Obote also stayed in the caves.
"My family played a critical role in the independence struggle," said Mlekenyi.
He said his family members were always being harassed by British soldiers hunting the freedom fighter.
"Many were the occasions we would spend sleepless nights as colonial security agents raided our homestead looking for Kenyatta and other freedom fighters," he said.
Other local leaders who also hobnobbed with Kenyatta during his stay in the area were Dawson Mwanyumba, Ronald Ngala, Patrick Chombo, Woresha Mengo, Jimmy Mwambichi and Fredrick Maseghe, all deceased.
Norman Lukindo is the only local hero still alive.
Mlekenyi said the county had not benefited from successive governments despite playing a key role in the fight against colonial rule.