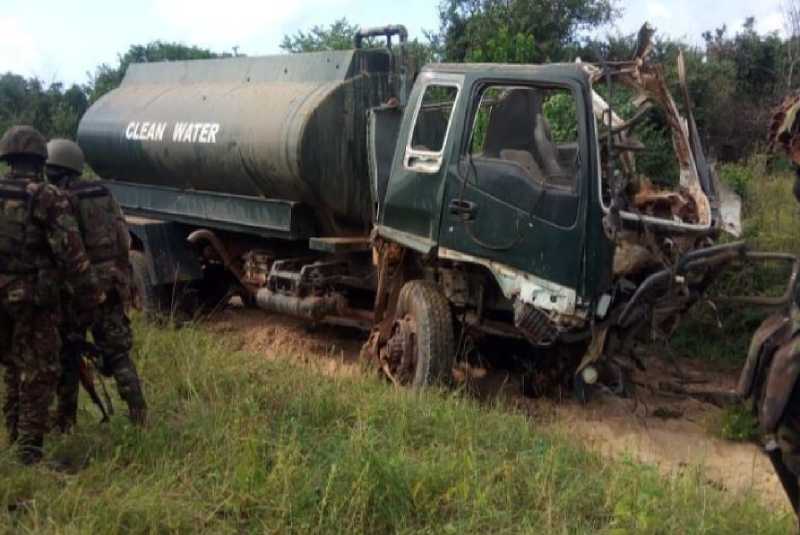 Five soldiers were killed yesterday when two vehicles they were in struck improvised explosive devices on the road.
Colonel Paul Njuguna from the Department of Defence's Public Affairs Department said yesterday evening that the explosions, which occurred around 8am, also injured 10 soldiers.
"Ten soldiers are receiving medical care from injuries sustained. Regrettably, five other soldiers succumbed to their injuries," he said in a statement.
The report further indicated that the soldiers were on a humanitarian mission to supply water to area residents.
According to the statement, the attacks occurred on the Kiunga-Sankuri road.
Read More
Witnesses in the security services who requested not to be named said the attack targeted a Kenya Defence Force (KDF) convoy ferrying soldiers and water between Kiunga in Lamu and Sangailu in Garissa.
"The water tanker struck a land mine and exploded, sparking a huge fire. The second vehicle with soldiers then struck a second mine nearby, resulting in a deafening explosion," one witness said.
Another source said residents tried to help the wounded soldiers before the arrival of reinforcements from nearby KDF camps. The injured were treated at a military hospital on Manda Island while the bodies were flown by helicopter to the Manda airstrip.
The attack sparked fear among Lamu residents, who urged the security agencies to comb the nearby forest.
Hindi Ward MCA Anab Mohamed called on the Government to start door-to-door searches to flush out criminals, noting that it was possible the militants retreated to nearby villages after the attacks.
It was not clear what type of IEDs were used or whether they were detonated remotely. And although no group has claimed responsibility, authorities suspect Jaysh Ayman, a violent offshoot of Somalia's Al Shabaab group that has been active in the region since 2014.
The group is said to include domestic and foreign jihadists who have been waging a low-level insurgency from local forests, remote areas and ungoverned spaces where Kenya's border with Somalia meets the Indian Ocean.
A multi-agency force comprising soldiers, police and forest rangers has been battling insurgents in the area since 2015.